Client Stories
After an injury, a Pinnacle client needed a helping hand to keep her business running. Clarissa Pryor went the extra mile to do the right thing.
---
"Personalized attention to detail in all facets of banking matters. Human touch is priceless."
Pool Contractors Supply, Inc. in Memphis, TN
---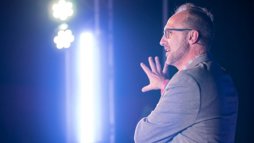 Pastor Jeff Centers needed funding for a permanent home where his congregants could worship. He didn't think any banker could understand what it's like to take on that mission. Enter a fellow man of the cloth - and Pinnacle banker - who knew exactly what he needed.
---
"Before I was ever anything, I didn't know anyone, I didn't have anything. And [Becky] treated me like a rock star then. I've always been very appreciative of that ... It's about people taking care of people, and that's what they do there very well."
Nashville, TN
---
Becky McIllwain isn't a music producer, she's a banker. That didn't stop her from helping change Jake Owen's life.
---
"Glynn is an absolute pleasure to work with and his understanding of my various business endeavors and financial needs has been a vital element of our success. I count myself very fortunate to have had such a long term relationship with someone such as Glynn and look forward to many years to come."
Memphis, TN
---