Online and Mobile Banking
Overview
Access your accounts securely anytime, anywhere.
These videos show how our online banking can help you manage your business's finances and cash flow.
Below are just a few ways we make it easy to view your cash position.
Real-time. Any time. Your financial records are up-to-date 24 hours a day, seven days a week. Check balances, review account activity and see pending transactions from anywhere.
Transfer funds. Immediately transfer funds into other disbursement accounts. Excess cash can be transferred to interest-bearing accounts or can be transferred to pay down debt.
Stay alert. Track your account balances and transactions with a variety of email alerts. Need to know if your balance is low or when a large check has cleared? We'll send you an alert.
Internal control. The sub-user administration allows you to set authorities and abilities for users within the online banking product.
Manage your payments. Not only can you pay virtually any business or individual with our online services – you can view history, set up auto payments and receive email reminders when a bill is due.
View history. We offer a full 24 months of history on all your accounts. You can research transactions and produce reports based on criteria such as check number, date or amount.
View and print check images. You'll see the front and back of your cleared checks online.
Go paperless. Sign up for eStatements on all your accounts. We'll send you an email when your statement is available.
Pinnacle recommends that you use the latest 128-bit encrypted browsers for increased security:
Mobile Banking
Access your accounts on the go with free and secure mobile banking.
We updated our app July 13. Go to PNFP.com/mobile for more information about the new features and get the answers to frequently asked questions.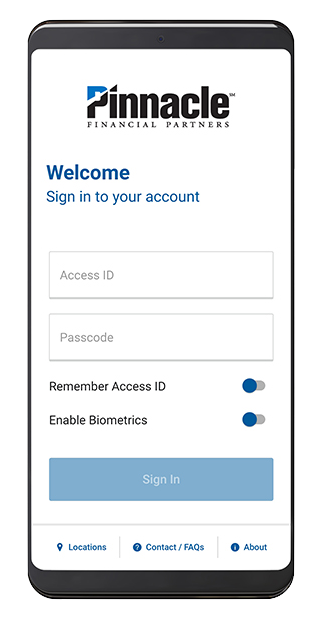 Text or app. Once enrolled, you can text us using these quick texts or download our Android/iPhone apps.
Manage your finances. Check your current account balance and search recent transactions by date, amount or check number. Easily transfer cash between your accounts.
Pay your bills. Make payments and view recent scheduled payments with online Bill Pay for mobile devices.
Make deposits. Submit check deposits using your device's camera. You can read our FAQ for more information.
---
NOTE: Pinnacle offers mobile banking as a free service. Your wireless provider may charge for data usage. Please consult with your provider to determine what these charges will be. The "Enroll Now" and "Demo" buttons below are for Pinnacle's online banking service, not for mobile banking.
Online Banking Redesign
Pinnacle Online Banking got a makeover.
We have upgraded your Online Banking experience. The changes include:
Rearranging some of the screen layout
Reorganizing menus and adding more options in some of them
Making cosmetic changes for a more modern look
The ability to set your time zone
These updates affect both personal and business users, with slight differences in the redesign for each. They do not affect the mobile banking app.
Most importantly, no action is required on your part. The changes happened automatically, and you can use the same Access ID and password to log in.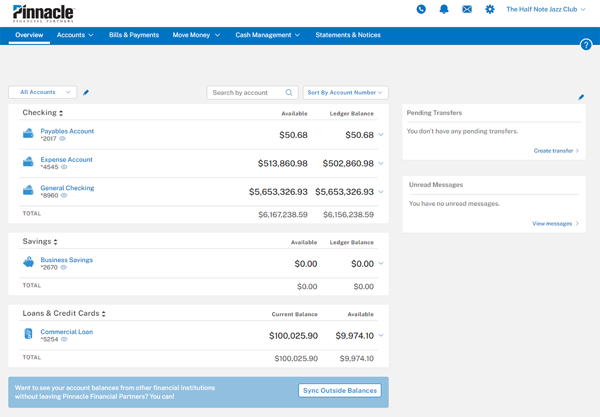 The new Pinnacle Online Banking interface.
See a full rundown of the changes and new features in Online Banking.
Changes to the design, icons and cosmetic elements affect all users. The most significant changes include:
The "Home" page in Online Banking is now called "Overview."
The two-column layout has flipped, with accounts listed on the left.
The right column now includes "Widgets," which are customizable tools and shortcuts that you can set up to your liking.

For commercial clients, widgets include Pending Transfers and Unread Messages for now, with more coming in the future.

Outside accounts can be included in your "Favorites" on the Overview page.
QuickView for accounts and specific transactions includes additional actions.
Dropdown menus are mostly the same, with some reorganization of the available links.
For commercial clients, "Favorites" has changed to "Account Groups." Commercial users are able to create additional account groups to organize their accounts.
If you have any questions, please reach out to our Client Service Center.
Manage Your Cash Flow
Control money coming in and going out.
We set you up with an easy way to view balances, account activity and pending transactions on all of your accounts. But that's not all. You can also:
Download transactions. If you prefer to use your own money management software, it's easy to download your transactions to Quicken, QuickBooks or Microsoft Money.
Categorize your spending. You can assign categories and descriptions to transactions.
Create alerts. Track your account balances and transactions with a variety of email alerts. Need to know if your balance is low, when a large check has cleared or if your pay has been deposited? We'll send you an email.
Security Features
Pinnacle's online banking carries several levels of security.
New: Read about the security enhancements new to Pinnacle Online Banking in 2022.
From account information to personal data, the internet has become a key place for criminals to get information. The good news is there are simple ways you can safeguard your online accounts. See our online library of resources on how to protect yourself from fraud. Pinnacle's online banking program carries several levels of security.
Secure connection. Your data is scrambled as it travels from our computer to your computer. All online banking pages use the highest standard of Secure Socket Layer (SSL) encryption available to prevent thieves from accessing your banking data.
Password protected. The importance of picking a good, secure password can't be emphasized enough. The objective when creating a password is to make it as difficult as possible for anyone to make an educated guess about what you have selected. Here are some tips for creating a strong password:

Make it lengthy. Each character you add increases the protection.
Combine letters, numbers and symbols. The greater variety of characters you have, the harder it is to guess.
Avoid sequences or repeated characters. 12345678, 222222, abcdefg, or adjacent letters on your keyboard.

Beginning August 11, 2022: One-time PINs. We'll recognize the computers you use frequently. If we don't recognize the computer trying to access your accounts – say you've logged in from work or removed cookies from your existing web browser – we'll require you to enter a one-time PIN, delivered to your mobile device or email address. We'll also use one-time PINs for certain essential functions like changing your address or adding or changing subusers. 
Ending August 10, 2022: Security questions. We'll recognize the computers you use frequently. If we don't recognize the computer trying to access your accounts – say you've logged in from work or removed cookies from your existing web browser – we'll require a correct answer to your challenge questions before allowing access.
Advanced features. Finally, the online banking site is protected by the most advanced firewalls and monitoring tools available on the market today. All of these features make online banking secure and safe.
Pinnacle is dedicated to providing clients with distinctive service and effective advice. We do everything in our power to protect our clients from fraudulent activities through online services. Here are some things you can do to protect yourself.