Accounts Payable Automation
Businesses need efficient operations across the entire organization, including accounts payable.
Read our State of Accounts Payable Report.
AP teams often rely on manual processes that create inefficiency and increase expenses. AP automation with Pinnacle's payables solution simplifies these processes and transforms workflows into an organized, digital program for end-to-end payment execution.  
See how AP Automation cut invoice coding and key entry time in half for a franchisee.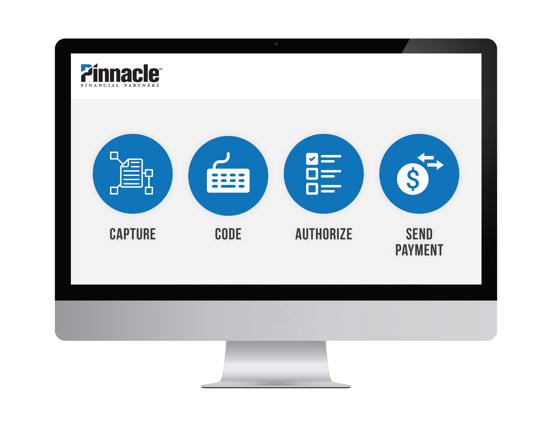 How It Works
Invoices are automatically captured and synchronized to an accounting system.
Invoices are then routed through Pinnacle's payables client access portal for examination and approval by AP staff.
Approved invoices are paid according to the organization's AP policy and vendor relationship procedures by check, ACH or virtual card.
Payments are automatically posted back to the accounting system, and Pinnacle's payables solution maintains a permanent online archive of the payment approvals and transactions.
Features
Continuous sync to the accounting system
Ability to precisely time payments
Configurable user roles and payment limits to accommodate the organization's payments workflow permissions
Single sign-on through Pinnacle's Business Online Banking solution
Integration into Pinnacle's Positive Pay solution for check fraud mitigation
Benefits
Pinnacle's payables solution provides benefits across all aspects of working capital, efficiency and risk mitigation.
Working Capital
Streamline invoice processing
Reduce reliance on check payments
Reduce exceptions and incorrect/late payments
Improve trading partner relationships
Enhance ability to control payments and consider implications of discounted payment terms
Efficiency
Eliminate manual keying and coding of invoices
Convert invoices to digital forms for workflow
Reduce expense for paper storage and retention
Complete all payments in one place regardless of type
Risk Mitigation
Segregate duties by employee
Control how invoices and payments are approved
Leverage virtual card payments that provide one-time use and dollar-specific payments​
To see if AP automation is a good fit for your business, call your financial advisor for a closer look.
Support
Already using AP automation? Our Treasury Management Client Services team is available to assist you Monday through Friday, 8:30 a.m. to 5 p.m. local time.