Mobile Wallet
A mobile wallet is an easy way to carry your personal Pinnacle credit or debit card information in a digital form on your mobile device. Instead of using your physical plastic card to make purchases, you can simply and easily pay with your smartphone, tablet or smartwatch. 
If you have a smartphone, you are probably carrying a mobile wallet right now. When you add your Pinnacle credit and debit card information into your smartphone's mobile wallet app, you can bypass swipes and "chip dips" to make a more secure transaction at thousands of retail locations.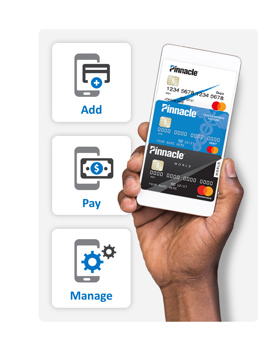 Getting Started
Step 1  Add
Add your personal Pinnacle credit or debit card to the digital wallet on your mobile device.
Step 2  Pay
Pay by holding your mobile device near the reader at participating merchants.
Step 3  Manage
Manage your virtual cards and control access in Apple Pay®, Google PayTM and Samsung Pay or review your card activity in Pinnacle's online or mobile banking.
Choosing a Mobile Wallet

Pinnacle's credit and debit cards work with the three most popular mobile wallets. When you are comparing features, be sure to check which mobile device is required and which merchants accept the wallet. Learn more about each:
Apple, the Apple logo, iPhone and Passbook are trademarks of Apple Inc., registered in the U.S. and other countries. Apple Pay, Touch ID and Apple Watch are trademarks of Apple Inc.