Pinnacle lands No. 1 on the list of Top Workplaces in Knoxville
June 23, 2017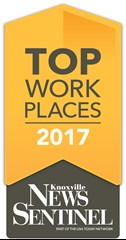 Pinnacle Financial Partners has placed No. 1 on the Knoxville News Sentinel list of 2017's Top Workplaces in the mid-size business category. The firm also won the special "Direction Award" for the highest percentage of associates saying that the company is headed in the right direction.
The inaugural Top Workplaces list is based solely on results of surveys given to associates at each company considered for the award. The survey is administered by Workplace Dynamics, LLC, a leading research firm that specializes in organizational health and workplace improvement. Several aspects of workplace culture were measured, including alignment, execution and connection, to name just a few.
"Our whole company is based around the idea that if you build a place where associates are passionate and love coming to work, they will pass it on to clients by giving the highest level of service," said Pinnacle's Knoxville President Mike DiStefano. "Hats off to the entire Pinnacle team here in Knoxville for living that philosophy every day and making this such a fun and rewarding place to work."
Earlier this year, Pinnacle was listed by Fortune Magazine as one of the 100 Best Companies to Work For in the United States and one of the top 10 financial services firms to work for. People Magazine also named the firm one of 50 Companies That Care. That makes 10 national awards for workplace culture in Pinnacle's history, along with dozens of local and regional awards. Like the Knoxville Top Workplaces award, many of those are determined by employee surveys.
"The Top Workplaces award is not a popularity contest. And oftentimes, people assume it's all about fancy perks and benefits," says Doug Claffey, CEO of WorkplaceDynamics. "But to be a Top Workplace, organizations must meet our strict standards for organizational health. Time and time again, our research has proven that what's most important to them is a strong belief in where the organization is headed, how it's going to get there, and the feeling that everyone is in it together."