Great Place to Work® and Fortune Name Pinnacle One of the Best Workplaces in Financial Services and Insurance
March 28, 2017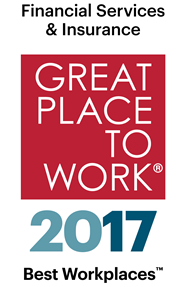 Pinnacle Financial Partners is the No. 7 financial services firm to work for in the country, according to a new list published today in Fortune magazine. This honor comes less than three weeks after landing on Fortune's list of the 100 Best Companies to Work For, making it the second national workplace award the firm has won this year and the ninth in its history.
The list of 2017's Best Workplaces in Financial Services and Insurance is based on surveys of more than 62,000 employees from leading financial firms. An average of 98 percent of employees at these companies say they enjoy a psychologically healthy workplace, with a similar share describing their organizations as friendly.
"Research has made it clear to us again and again that we have succeeded as a firm because we created a great place to work," said Terry Turner, Pinnacle's president and CEO. "An engaging work environment is the best way to ensure client satisfaction and return value to our shareholders."
Read more about Pinnacle's ranking in Fortune.
Team members at the Best Workplaces also hold them in high regard for the ways they give back to the community and the level playing field they create for employees. This contributes to stronger loyalty among co-workers, as well as more robust revenue growth compared to companies that didn't make the list.
Pinnacle Financial Partners provides a full range of banking, investment, trust, mortgage and insurance products and services designed for businesses and their owners and individuals interested in a comprehensive relationship with their financial institution. The firm earned a place on Fortune's 2017 list of the 100 Best Companies to Work For in the U.S., and American Banker recognized Pinnacle as the sixth-best bank to work for in 2016.
The firm began operations in a single downtown Nashville location in October 2000 and has since grown to approximately $11.2 billion in assets as of Dec. 31, 2016. As the second-largest bank holding company headquartered in Tennessee, Pinnacle operates in the state's four largest markets, Nashville, Memphis, Knoxville and Chattanooga, as well as several surrounding counties.
Additional information concerning Pinnacle, which is included in the NASDAQ Financial-100 Index, can be accessed at www.pnfp.com.