Pinnacle Brings Home 4 More Greenwich Best Brand Awards
Wins recognize both small business and middle market banking
November 16, 2017
Global research agency Greenwich Associates has once again named Pinnacle Financial Partners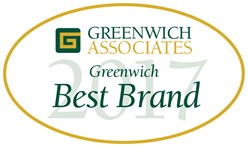 one of its Best Brand Award winners. The firm earned 2017 honors for both Ease of Doing Business and Trust in small business and middle market banking.
Greenwich Associates determines Best Brand Award winners according to client surveys, with 750 banks evaluated nationwide. For 2017, only 18 were found to have distinctive brands for small business banking and 19 for middle market. The two awards Pinnacle earned, in particular, signify how easy the bank is to work with and the trust clients place in its advisors.
"It's our people who are our brand," said Terry Turner, Pinnacle's President and CEO. "Our clients depend on their advisors. That's a sacred relationship, and trust and ease of doing business are key ingredients to making it work."
Pinnacle previously earned Best Brand – Trust and Best Brand – Ease of Doing Business awards for small business banking in 2014 and 2016. The firm is also frequently recognized in Greenwich Associates' Excellence Awards program, including wins in several small business and middle market categories for seven consecutive years.
The Best Brand Awards are only earned when a bank has a statistically significant proportion of "Excellent" ratings on client surveys, which are shown as a rating of five on a five-point scale.
"We know through our own research that nearly 97 percent of our clients agree that we are recognizably better than the competition," Turner said. "So to see it spelled out in no uncertain terms based on the expert research at Greenwich Associates is very gratifying."
Pinnacle Financial Partners provides a full range of banking, investment, trust, mortgage and insurance products and services designed for businesses and their owners and individuals interested in a comprehensive relationship with their financial institution. The firm earned a place on Fortune's 2017 list of the 100 Best Companies to Work For in the U.S., and American Banker recognized Pinnacle as the sixth-best bank to work for in 2017.
The firm began operations in a single location in downtown Nashville, TN in October 2000 and has since grown to approximately $21.8 billion in assets as of September 30, 2017. As the second-largest bank holding company headquartered in Tennessee, Pinnacle operates in 11 primarily urban markets in Tennessee, the Carolinas and Virginia.
Additional information concerning Pinnacle, which is included in the NASDAQ Financial-100 Index, can be accessed at www.pnfp.com.