News Releases
News Releases
Pinnacle Financial Partners Opens New Office on Shallowford Road in East Hamilton County
July 20, 2017
Pinnacle Financial Partners is furthering its commitment to Chattanooga with the opening of a new office in East Brainerd at 6180 Shallowford Road.
The office is the firm's second in Chattanooga and first outside of downtown. The Shallowford Road office is centrally located to much of Chattanooga and the surrounding communities. It offers a full slate of financial services, including personal and business banking, mortgage, asset management and more.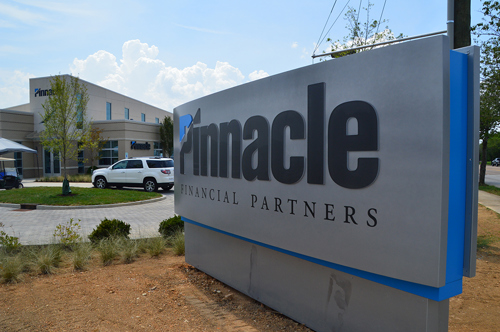 "The East Brainerd community is where we live and work, and we are proud to call it home," said Larry Vinyard, Pinnacle's Shallowford Road office leader. "It has a strong corporate presence with companies like Amazon and Volkswagen nearby, a booming local business district and thriving neighborhoods. And now Pinnacle is accessible and convenient to more of Chattanooga so everyone can experience the distinctive service and effective advice we bring to financial services."
In celebrating the opening later today, Pinnacle leaders will announce a new community investment to support education in Hamilton County. They will present a check for $3,000 to STEP UP Chattanooga, a program that pairs high school students from Hamilton County Public Schools with local businesses for summer internships.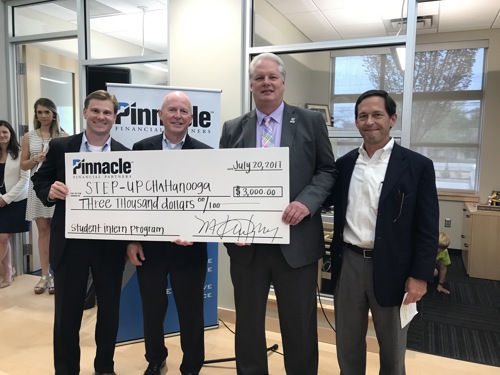 This investment will sponsor two student interns for next summer. Pinnacle plans to help the students find placement with two of the bank's local small business clients. 
"We support Chattanooga because Chattanooga supports us," said Craig Holley, Pinnacle's Chattanooga chairman. "With our position in the community, we have a responsibility to invest in its growth and help where we can so that all our neighbors prosper. Few things do that better than affordable housing and education. That's why we're proud to support causes like Habitat for Humanity and now STEP UP. We feel this program can make a big difference for young people and serve as an investment in our future."
Since merging with CapitalMark Bank & Trust in 2015, Pinnacle has continued that bank's legacy of service, advice and local business support. Pinnacle retained every financial advisor from CapitalMark during the merger and has since hired over a dozen more. The firm grew its deposit and loan portfolios in Chattanooga by 40.8 percent and 30.5 percent, respectively, from 2016 to 2017.
"This community has been very good to us, and we're only just beginning," said Ryan Murphy, Pinnacle's head of client services in the market. "Our plan is to become a top three bank in Chattanooga with $2.5 billion in assets. The Shallowford Road office is a great step in that direction. We are so grateful for how good Chattanooga and Cleveland have been to us."
In addition to the Shallowford Road office, Pinnacle also has offices on Broad Street downtown and on Church Street in Cleveland.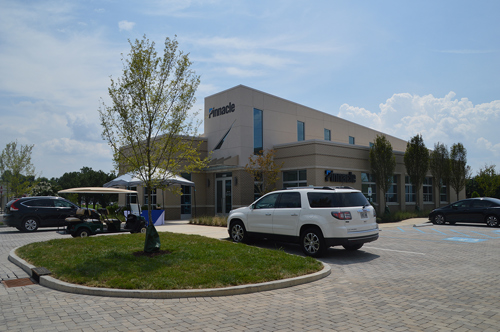 Pinnacle Financial Partners provides a full range of banking, investment, trust, mortgage and insurance products and services designed for businesses and their owners and individuals interested in a comprehensive relationship with their financial institution. The firm earned a place on Fortune's 2017 list of the 100 Best Companies to Work For in the U.S., and American Banker recognized Pinnacle as the sixth-best bank to work for in 2016.
Pinnacle began serving Chattanooga in 2015 when it acquired CapitalMark Bank & Trust, a community institution with an excellent record of service and growth. Pinnacle continues that tradition: the firm is the fourth-largest bank in Chattanooga in terms of deposits and is also one of the fastest growing.
The firm began operations in a single location in downtown Nashville, TN in October 2000 and has since grown to approximately $20.9 billion in assets as of June 30, 2017. As the second-largest bank holding company headquartered in Tennessee, Pinnacle operates in 11 primarily urban markets in Tennessee, the Carolinas and Virginia.
Additional information concerning Pinnacle, which is included in the NASDAQ Financial-100 Index, can be accessed at www.pnfp.com.