News Releases
News Releases
New Look for Pinnacle's Website and Online Banking Login
September 25, 2017
We thought it was time for an update.
PNFP.com has a brand new look. You'll find everything in the same place because it's built on the same foundations as the old site. It just has a fresh coat of paint.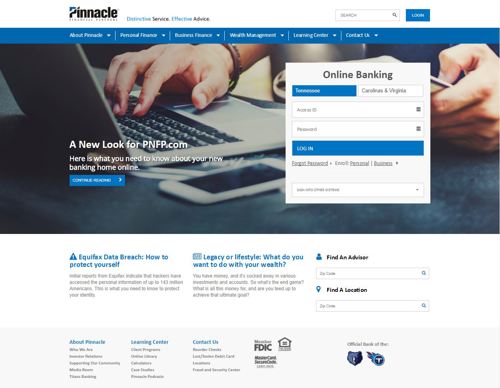 Here's what you need to know about the new design.
Online Banking Logins
This is the biggest change from the old site. Online Banking hasn't changed, but the box you use to log in has. You'll now see a login box with two options based on where you opened your account: Tennessee or Carolinas & Virginia. This is because of our merger with BNC Bank. We use two different systems for online banking, and it'll take a little longer to bring us together on the same one.

The good news is that you shouldn't have to choose which one you want every time you visit. The website is designed to know which one you're likely to want and give you that option first. If the correct tab isn't highlighted when you visit the site, be sure to click it before you log in.

Just like on the old site, there is a dropdown menu at the bottom of the login box that will take you to different kinds of logins for credit cards, loan payments, investments and more.


 
 
Find People and Places
In the lower right of the homepage, you'll see two search bars. One tells you how to find our offices and ATMs. The other helps you find a financial advisor in your area. Both let you search by zip code. Looking for mortgages in Memphis? Treasury management in Thomasville? Here's where to start.


 
 
Everything's Still in the Same Place
The navigation hasn't changed. You'll still find information on all our products and services in Personal Finance, Business Finance and Wealth Management. There are still dozens of helpful videos, articles, podcasts and more in the Learning Center.


That's it. We hope you find it more attractive, easier to read and easier to get what you want. 


If you have questions, please reach out to our Client Service Center

Tennessee
800.264.3613
Carolinas & Virginia
877.306.2118