Fraud and Security Alerts
Back to Fraud and Security Alerts
SECURITY THREAT
This Email from Pinnacle is Real and Safe to Click
Pinnacle often advises clients to be very careful about email fraud, particularly phishing attempts that appear to come from a trusted source but actually want to steal your passwords or install malicious software. Because we know you're cautious, this time we want to give you advance notice of an email that is legitimate and safe that we will soon send to many clients.
Between Feb. 28 and March 9, 2022, Pinnacle clients with a consumer or small business checking account might receive an email asking them to take part in a survey from JD Power to assess your opinions of Pinnacle's service levels.
How do you know this email is safe?
It will come from Pinnacle Financial Partners, with the sender address "[email protected]"
It will feature both the Pinnacle and JD Power logos.
It will contain a link to jdpoweronline.com. This link will be unique to you, but your responses will be completely anonymous.
The email will look like this: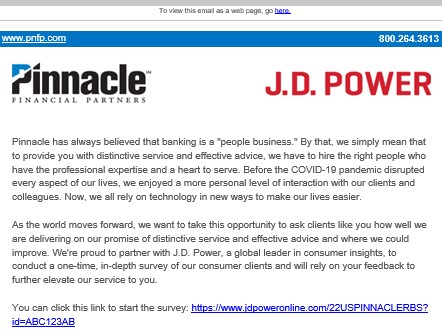 The survey should take about 20 minutes to complete. It will ask for some generic demographic information and a few details about the types of products and services you use with Pinnacle, but we will have no way of seeing who gave what responses.
While the email described above is safe for you to click, we still urge you to be extra cautious about email links and email communication in general. Cybersecurity experts around the world expect an increase in cyber attacks and phishing attempts given the situation unfolding in Europe. So it's smart to be more vigilant than ever.
If you receive the JD Power email but still have concerns or questions, you can always reach out to your financial advisor or call our Client Service Center. If you want a refresher on how to be safe with email and other digital communications, our Learning Center has a number of articles and recorded webinars on the subject.
Quick Links
Tips on Reporting Fraud
Read this for steps you should take immediately.
If you believe your Pinnacle debit or credit card is lost or stolen, call us immediately.
Depending on the services you want, you should be able to discover an option that fits your needs and your budget.
READ MORE ABOUT REPORTING FRAUD