Fueling Growth at a Family Owned Propane Business
The Small brothers knew where they wanted to take their company, but couldn't find a bank that really understood the business. That changed when they traded the big, national firms for the feel of a hometown bank.

Brothers Eric and Craig Small have taken their family business a long way, but they know there's still so much more to do.
United Propane Gas (UPG) is, by many accounts, the largest family-owned propane company in the United States. Based in Paducah, KY, they'll soon have 80 locations in 12 states serving about 300,000 customers. Heating homes is still their bread and butter, but commercial, agricultural and industrial sectors gain more steam every year. Through their work in the poultry industry, they claim to keep more chicks warm than any other company in the United States.
That's a long way from where their mom and dad started, selling bottles of propane off a truck in 1949.
Still, there are more places they can go, more buildings they can help heat. The only thing really holding them back was finding the right financial partner.
"You can be more nimble when your competitors are huge, publicly-owned companies," the brothers said. "Unlike them, we don't have to make every decision based on quarterly numbers and constant growth. We have our hands on the heartbeat of this company. We know where we are and where we need to go. But finding a bank that was willing to help us to get us there has been challenging."
With such a wide footprint, it seemed to make sense to work with a big, national bank. They have the resources and reach that a company the size of United Propane needs. But for years, the brothers and their CFO struggled under the yoke of a bank headquartered a thousand miles away. Even after decades of working together, no one bothered to really get to know them, and bureaucratic decision-making stood in place of any real partnership between a successful company and its banker.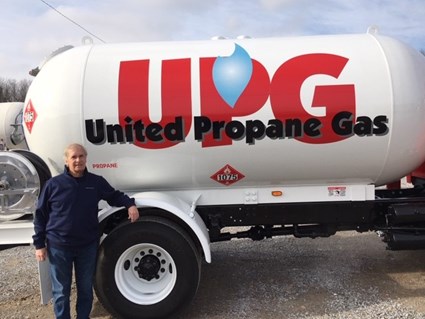 "In the propane business, it takes a lot of investment to make a dollar," they said. "Equipment is expensive, and our cash flow is often at the mercy of the weather. None of the big banks ever cared enough to understand that, and it meant that growth and acquisitions could be a real struggle to accomplish."
So, when Rick Seadler from Pinnacle Financial Partners came calling, they were ready to listen.
"We've struggled to find a partner who would help us get to where we want to be and understand what drives our success. We needed someone who was as willing to ride out a warm winter as they were to enjoy the success of a cold one. Rick and Pinnacle immediately understood that. It was a breath of fresh air."
They got to work hammering out an agreement. There were some deals at other banks that could be refinanced, as well as an opportunity for new credit that would fund the expansion plans they had mapped out. Paired with new treasury products and merchant card services, the deal was structured in a way that allowed for a steady stream of payments built around the seasonal ebb and flow of revenue.
"By getting to know the team and seeing what they were capable of, we came to an arrangement that worked for everyone," said Seadler, who is United Propane's financial advisor. "It really wasn't that hard, and given the success they've built over a long period of time, we felt confident it would work."
"Having Rick run point on so many different financial products and services – and having him just be a phone call away – has made it so much easier to do business," the brothers said. "We don't have a big management team or people who sit around looking at spreadsheets. Everyone in this company works. So we need a good financial advisor who can shoulder some of that work and make our company easier to manage."
As an example, they offer up the story of trying to increase the company's limit on wire transfers. At the big national banks, that process could take days and rounds of phone calls. A loan officer would have to talk to a treasury officer, who would have to run it up the chain to a manager in a different city. The outcome might be favorable – or maybe not – but the effort it took to get it done was enormous.
"I was on the road when he called asking to adjust their wire limit," Rick said. "And being new to Pinnacle myself, I wasn't sure how long it would take. But after just a single phone call, it happened right away. I've never seen a turnaround that quick, and neither had they. Both of us came away feeling even better about our relationship."
"We like the way Pinnacle does business," they said. "They're a little like us. If someone needs us, be it a customer, employee or anyone else, we'll answer the phone. That's the way Pinnacle operates, too. After we closed the deal, the chairman of the bank, Rob McCabe, called to check in. It's like you're dealing with a small, hometown bank but with the resources of one of the big national ones. We couldn't have asked for anything better. We hope this relationship lasts forever."