Pinnacle is the No. 2 Best Workplace in the Country for Financial Services and Insurance
March 26, 2019
Pinnacle Financial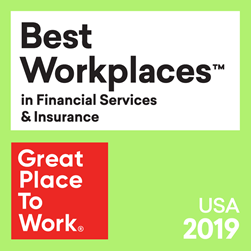 Partners has risen in the ranks to be the second best financial services firm to work for in the entire country, having earned the No. 2 spot on a new list of the Best Workplaces in Financial Services and Insurance from FORTUNE and Great Place to Work®. Last year, Pinnacle came in at No. 3 on the same list, and just weeks ago the firm ranked as the No. 27 overall Best Company to Work For in the United States.
"From day one we wanted to be the best place to work, and it's a vision that has been validated time and again by third-party research," said Terry Turner, Pinnacle's president and CEO. "That focus has set us apart from our competitors, and the contrast has only grown starker as time has passed and the banking landscape has changed. Focusing on people and giving them a place where they love to come to work is the right thing to do for both associates and clients. As it happens, it's also a more profitable way to do business, as the last 18 years have proven."
This ranking is based on anonymous survey feedback from among 726,000 people working in the industry. Surveys examined more than 60 elements of their job experience, including the extent to which they trust their leaders, the respect with which people are treated, fairness in workplace decisions and camaraderie amongst the team.
In addition to its own big win, a company partially owned by Pinnacle also earned accolades. Bankers Healthcare Group ranked No. 2 on the list of small and medium companies. Bankers Healthcare Group is a financial services firm for the healthcare industry with more than 400 employees headquartered in Florida.
Pinnacle's award-winning culture has made the firm a magnet for the best financial services professionals in the markets where the firm operates. Pinnacle leaders hired more than 100 financial advisors across its four-state footprint in 2018 while also recording record revenues and earnings, proving that the model of focusing on associates to drive bottom line results is successful.
Pinnacle's status as a great workplace is built on its internal culture, where associates are literally owners in the firm, through restricted stock share grants given to 100 percent of associates, and annual cash incentives for all non-commissioned associates, which are awarded for hitting firm-wide goals, not individual quotas. For 2018, Pinnacle paid out more than $36 million in cash incentives and $20 million in equity grants.
This is one of dozens of workplace awards on Pinnacle's shelf, including national rankings as the No. 12 Best Workplace for Women, No. 40 Best Workplace for Parents, No. 24 Best Workplace for Millennials and six appearances on American Banker's list of the Best Banks to Work For.
Pinnacle Financial Partners provides a full range of banking, investment, trust, mortgage and insurance products and services designed for businesses and their owners and individuals interested in a comprehensive relationship with their financial institution. The firm is the No. 1 bank in the Nashville-Murfreesboro-Franklin MSA, according to 2018 deposit data from the FDIC. Pinnacle earned a spot on FORTUNE's 2019 list of the 100 Best Companies to Work For® in the U.S., its third consecutive appearance. American Banker recognized Pinnacle as one of America's Best Banks to Work For six years in a row.
The firm began operations in a single location in downtown Nashville, TN in October 2000 and has since grown to approximately $25.0 billion in assets as of Dec. 31, 2018. As the second-largest bank holding company headquartered in Tennessee, Pinnacle operates in 11 primarily urban markets in Tennessee, the Carolinas and Virginia.
Additional information concerning Pinnacle, which is included in the NASDAQ Financial-100 Index, can be accessed at www.pnfp.com.
About Bankers Healthcare Group
Bankers Healthcare Group provides innovative, hassle-free financial solutions to healthcare practitioners and other licensed professionals. Since 2001, BHG has provided more than $4 billion in financial solutions to thousands of satisfied customers nationwide. BHG is proud to maintain partnerships with leading healthcare industry associations, and is recognized regionally and nationally for innovation, continued growth, and being a best place to work. BHG is partially owned by Pinnacle Financial Partners. To learn more, visit www.bankershealthcaregroup.com, and follow us on Twitter, LinkedIn and Facebook.
About the Best Workplaces in Financial Services and Insurance
Great Place to Work based its ranking on a data-driven methodology applied to anonymous Trust Index™ survey responses representing more than 726,000 employees at Great Place to Work-Certified organizations. To learn more about Great Place to Work Certification and recognition on Best Workplaces lists published with FORTUNE, visit Greatplacetowork.com.
About Great Place to Work
Great Place to Work® is a global people analytics and consulting firm that helps companies produce better business results by focusing on workplace culture. Powered by more than 30 years of research, Emprising®, its SaaS-enabled survey and analytics platform, gives companies access to the assessments, data, and reporting needed to build a high-trust, high-performance culture. Learn more on LinkedIn, Twitter, Facebook and Instagram.