Pinnacle is One of 50 Companies That Care in PEOPLE Magazine
September 14, 2020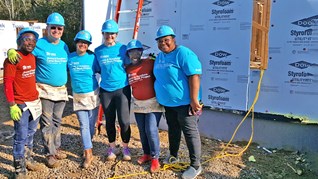 Pinnacle Financial Partners has again earned a spot on PEOPLE magazine's "50 Companies That Care" list, jointly chosen by the publication and Great Place to Work®. The firm joins much larger national brands like Publix , CISCO and Hilton on the list, all chosen for the generosity of their company benefits and charitable work, as well as personal accounts of the impact these organizations have made on the lives of their employees. The fourth annual list will be featured in the Sept. 14 issue of PEOPLE, which hits newsstands nationwide on Sept. 4.  
"I think it goes without saying that it's been a tough year in our country, with the pandemic and economic uncertainty," Pinnacle's President and CEO Terry Turner said. "Banking may seem like an odd fit for companies that seek to be difference makers in the world. Our approach and our culture are built to give kindness, compassion and respect freely. We protect that as one of our most valuable assets because it's the right thing to do and a wise business decision. Those two can go hand in hand to make a difference for clients, associates and the communities we serve."
Pinnacle's response in the pandemic perfectly illustrates this philosophy. The firm put the safety of associates and clients ahead of all else and was one of the first banks in the region to close its lobbies for in-person banking. At the same time, associates went to great lengths to meet more clients' needs through the drive thru. To ensure they can maintain balance in meeting the needs of their families, their own personal safety and the company, associates have been allowed great amounts of flexibility in work hours and liberal time off allowances. Despite all the added pressures of managing life during COVID, those same associates freely dedicated countless hours to get $2.4 billion in Paycheck Protection Program loans to their clients in a very short amount of time. They knew that money would help many businesses survive pandemic shutdowns.
In 2019, Pinnacle released its first Corporate Social Responsibility Report to quantify the impact it makes and track its progress toward improvement. According to the report, in 2019 Pinnacle:
invested $322 million in community development organizations
financed 6,801 affordable housing units
invested $3.84 million in community causes and nonprofits
Pinnacle associates, meanwhile, dedicated 21,435 volunteer hours to 2,538 organizations. More information on how the firm makes a difference for its associates, clients, shareholders and communities can be found at PNFP.com/CSR.
The 50 Companies That Care list is based on more than 4.7 million surveys from individuals employed by U.S. businesses across a range of industries. Pinnacle first appeared on the list in 2017. In 2018 and 2019, the firm was named to the Honor Roll from the nonprofit Center for Companies That Care, which is not related to the list in PEOPLE magazine.
Pinnacle Financial Partners provides a full range of banking, investment, trust, mortgage and insurance products and services designed for businesses and their owners and individuals interested in a comprehensive relationship with their financial institution. The firm is the No. 1 bank in the Nashville-Murfreesboro-Franklin MSA, according to 2019 deposit data from the FDIC. Pinnacle earned a spot on 2020 list of the 100 Best Companies to Work For® in the U.S., its fourth consecutive appearance. American Banker recognized Pinnacle as one of America's Best Banks to Work For seven years in a row.
Pinnacle owns a 49 percent interest in Bankers Healthcare Group (BHG), which provides innovative, hassle-free financial solutions to healthcare practitioners and other licensed professionals. Great Place to Work and FORTUNE ranked BHG No. 1 on its 2020 list of Best Workplaces in New York State in the small/medium business category.
The firm began operations in a single location in downtown Nashville, TN in October 2000 and has since grown to approximately $33.3 billion in assets as of June 30, 2020. As the second-largest bank holding company headquartered in Tennessee, Pinnacle operates in 12 primarily urban markets in Tennessee, the Carolinas, Virginia and Atlanta.
Additional information concerning Pinnacle, which is included in the Nasdaq Financial-100 Index, can be accessed at www.pnfp.com.
About Great Place to Work®
Great Place to Work® is the global authority on workplace culture. They help organizations quantify their culture and produce better business results by creating a high-trust work experience for all employees. Emprising®, their culture management platform, empowers leaders with the surveys, real-time reporting and insights they need to make data-driven people decisions. They recognize Great Place to Work-Certified™ companies and the Best Workplaces™ in the US and more than 60 countries, including the 100 Best Companies to Work For® list published annually in Fortune. Learn more at greatplacetowork.com and join the community on LinkedIn, Twitter and Instagram.