Pinnacle is a Best Place to Work in Virginia
January 31, 2020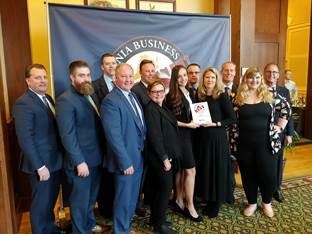 Pinnacle Financial Partners is one of the best places to work in all of Virginia. The firm earned the No. 6 spot on a list of Best Places to Work from Virginia Business magazine in the large companies category.
"Pinnacle's culture is second to none, and it has a tangible effect on everyone this bank serves, both inside and out," said David Allen, Pinnacle's regional president in Western Virginia. "Our associates tell us that almost every day, and even our clients can see it. They've pointed out our cultural magic and say it makes a difference in the experience they get in our offices. That can't happen without deliberate effort from the entire team, and I thank them for their commitment to our culture."
The Best Places to Work in Virginia list seeks to identify, recognize and honor the best employers in Virginia who benefit the state's economy, workforce and businesses. Businesses from across the state entered the two-part survey process that determines the ranking. The first part evaluated workplace policies, practices, philosophy, systems and demographics. The second looked at the employee experience with anonymous surveys distributed to all Pinnacle associates in the state. The list was compiled and managed by Best Companies Group.
"When associates love working here, their clients love doing business here," Allen said. "They also stay here longer. Pinnacle has a 93 percent retention rate company wide, which is unheard of in the financial services industry. That means clients get a consistent experience from the same trusted associates time after time. You can't beat that."
This is the first time Pinnacle has won a workplace award in Virginia. The firm was previously named the No. 1 workplace in the Triad region of North Carolina, the No. 7 Top Workplace in Charlotte, NC, the No. 5 Top Workplace in all of South Carolina, theNo. 1 workplace in Memphis, TN, and the No. 2 Top Workplace in Knoxville, TN, among many others. Pinnacle has also earned more than a dozen national workplace awards, including:
Like the Best Places to Work in Virginia list, many of these awards were determined by associate surveys.
For more information on the Best Places to Work in Virginia program, visit BestPlacesToWorkVA.com.