Pinnacle Is the Best Place to Work in Memphis
September 13, 2023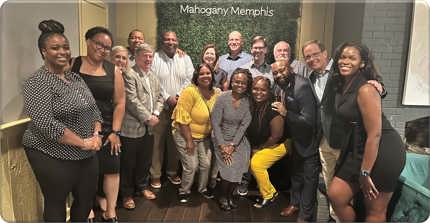 Pinnacle Financial Partners has been named as the Best Place to Work in Memphis once again, the eighth time in the last nine years the firm has earned the No. 1 spot. The Memphis Business Journal announced the ranking, with Pinnacle placing No. 1 in the large companies category. Pinnacle has been on the list since 2015.
"It's always an honor to hear our associates say they love working here, and even more so to see it backed up by independent research," said Phillip May, Pinnacle's regional president for Memphis. "An engaging work environment is the best way to ensure client satisfaction and return value to our shareholders. I'm grateful for the recognition, but more so I am proud of our team for living our values and our culture every day."
Pinnacle associates in Memphis have consistently given their workplace culture high marks.
Associates had this to say on the anonymous survey this year:
"Pinnacle provides a positive work environment where I feel my professional and personal life is respected and valued. The firm continuously engages associates to share and suggest ways to enhance the work environment, always striving for a work/life balance."
"The culture at Pinnacle is wonderful and something I have never experienced at any other organization I have worked for. Pinnacle values family first and foremost, and that makes my job much easier and rewarding. I would recommend Pinnacle to anyone I know. It is truly the BEST Place to work!! Hands down!"
"I didn't even know what if felt like to work for a great company before I got to Pinnacle. I worked at a big bank, and it was always stressful, and I didn't feel appreciated or valued. With Pinnacle it is the complete opposite."
The Best Places to Work list is based on third-party research from Quantum Workplace, a leading employee engagement firm. Quantum sends anonymous surveys to employees with closed and open-ended questions on culture, camaraderie, leadership transparency and other criteria. Scores from these surveys determine the final rankings and awards.
Pinnacle Financial Partners provides a full range of banking, investment, trust, mortgage and insurance products and services designed for businesses and their owners and individuals interested in a comprehensive relationship with their financial institution. The firm is the No. 1 bank in the Nashville-Murfreesboro-Franklin MSA, according to 2022 deposit data from the FDIC, is listed by Forbes as No. 27 among America's Best Banks, higher than any other bank headquartered in Tennessee, North Carolina, South Carolina or Georgia. Pinnacle also earned a spot on the 2023 list of 100 Best Companies to Work For® in the U.S., its seventh consecutive appearance and was recognized by American Banker as one of America's Best Banks to Work For 10 years in a row and No. 1 among banks with more than $11 billion in assets in 2022.
Pinnacle has served Memphis since 2015 when it acquired Magna Bank. Since then, Pinnacle has become the official bank of the Memphis Grizzlies and FedExForum and was named a "Top 10 Company to Watch in 2017" by the Greater Memphis Chamber. Pinnacle was named No. 1 "Best Place to Work" by the Memphis Business Journal in seven of the last eight years. 
The firm began operations in a single location in downtown Nashville, TN, in October 2000 and has since grown to approximately $46.9 billion in assets as of June 30, 2023.  As the second-largest bank holding company headquartered in Tennessee, Pinnacle operates in 17 primarily urban markets across the Southeast.
            Additional information concerning Pinnacle, which is included in the Nasdaq Financial-100 Index, can be accessed at www.pnfp.com.