Pinnacle Financial Partners Earns Nationwide Recognition in ESG
Firm's commitment to positive impact on all stakeholders is outlined in its 2022 Corporate Social Responsibility Report
May 24, 2023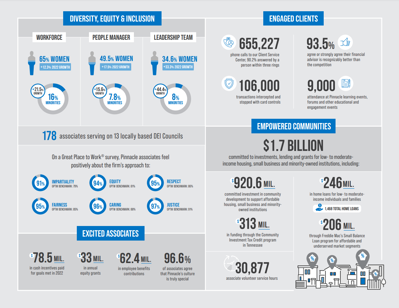 Pinnacle Financial Partners has earned national recognition for its work around environmental, social and governance issues (ESG). International market research firm Coalition Greenwich named Pinnacle as a Standout Commercial Bank for Demonstrated Commitment to ESG Principles and Values in its most recent report on the subject. The firm is one of just five banks nationwide to earn the recognition in the small business segment and one of only three in the commercial segment.
This honor comes shortly after Pinnacle released its 2022 Corporate Social Responsibility Report, which catalogues and contextualizes the firm's work to make a significant positive impact on all of its stakeholders. That report shows that by the end of 2022, Pinnacle Financial Partners had committed $1.7 billion to investments, lending and grants for low- to moderate-income housing, small business and minority-owned institutions. Full details of the firm's community work are in the 2022 Corporate Social Responsibility Report, available online now at PNFP.com/CSR.
"Care for and service to all our people are at the center of everything we do, but it's challenging to quantify the impact we make," Pinnacle's President and CEO Terry Turner said. "The Corporate Social Responsibility Report is our best attempt to calculate our contributions. This report confirms that we have a firm full of associates who approach their work with purpose and love. It confirms that banking is an industry that can make a real difference in the lives of millions of people. That's a humbling task, and I'm proud of our associates for living it out."
According to Coalition Greenwich, one third of business executives say the likelihood of choosing a bank that demonstrates commitment to ESG will increase over the next five years. This is Pinnacle's fourth year to capture that commitment in a CSR Report. In 34 pages, this year's report outlines the initiatives, programs, policies, processes and philosophies that drive Pinnacle's business model and details the data showing the 2022 outcomes of that work.
The CSR Report is divided by stakeholder group to show how Pinnacle works to improve the quality of life for each: associates, clients, shareholders and the communities it serves. Here is a sampling of what's in each section. This infographic shows even more highlights. The full report is available for review at PNFP.com/CSR.
Excited Associates
According to a 2022 Great Place to Work® survey:
98% of respondents say associates are treated fairly regardless of sexual orientation (GPTW benchmark is 96%).
91% believe promotions go to those who best deserve them (GPTW benchmark is 77%).
93% believe management genuinely seeks and responds to suggestions and ideas (GPTW benchmark: 84%).
The same survey measured Pinnacle associates' positive responses on all questions related to these specific focus areas:
Impartiality: 91% (GPTW benchmark: 79%)
Equity: 94% (GPTW benchmark: 81%)
Respect: 95% (GPTW benchmark: 86%)
Fairness: 95% (GPTW benchmark: 85%)
Caring: 96% (GPTW benchmark: 88%)
Integrity: 97% (GPTW benchmark: 87%)
Justice: 97% (GPTW benchmark: 91%)
Leadership Behavior: 97% (GPTW benchmark: 88%)
According to our internal surveys:
93.1% of associates overall agree or strongly agree that our firm's policies and practices ensure fair treatment for all associates.

90% of minorities
92% of women

90.2% of associates agree or strongly agree that when they offer an idea, it will be fully considered.

87% of minorities
89% of women

89.1% of associates agree or strongly agree that they contribute to important decisions.

86% of minorities
89% of women
Engaged Clients
According to research from Coalition Greenwich, a large majority of Pinnacle clients are considered "net promoters," which means they are so satisfied with the service they receive that they actively promote our brand to their networks.
Net promoter scores for 2022 (among markets where data was available):
Nashville – 92%
Chattanooga – 85%
Knoxville – 86%
Memphis – 61%
Tennessee – 87%
Greensboro – 67%
Charlotte – 67%
North Carolina – 68%
Client service data show:
748,467 client contacts received in our Client Service Center. That includes 655,227 calls and 93,240 emails and secure online messages.
2% of those calls were answered within 3 rings.
2% of clients who completed a survey after a call to our Client Service Center strongly agree that we met their needs or resolved their issue.
Enriched Shareholders
In 2022, shareholders communicated with our leadership and board of directors using the communication lines described in our Proxy Statement for our Annual Meeting of Shareholders. Additionally, a whistle blower hotline was operated throughout the year. There were no reports to our ethics hotline in 2022.
Our CEO and CFO met with 322 active investors in 2022 and attended (in-person or virtually) 19 unique events in 2022.
Empowered Communities
As of Dec. 31, 2022, Pinnacle had $1.7 billion committed to investments, lending and grants for low- to moderate-income housing, small business and minority-owned institutions, including:
$920.6 million committed investment in community development
$246 million for 1,468 home loans made to low- and moderate-income individuals; includes up to 100% financing, alternative sources of credit, no private mortgage insurance and fixed rate for 30 years
$47,475 in funds for 45 Individual Development Accounts to help low-income families with down payments for home purchases
224 down payment loans closed in 2022, part of a $2.9 million in grants provided to housing partners for down payment assistance
$313 million in funding through the Community Investment Tax Credit program, the largest amount in the state of Tennessee, to finance low- and moderate-income housing, an increase of 28% over 2021.
$206 million in lending through Freddie Mac Small Balance Loan program for affordable and underserved market segments.
$6.7 million in 29 Small Business Community Lending loans
$6.8 million in contributions to community causes and nonprofits, an increase of 37% over 2021.
See an example of this work in North Carolina.
Corporate Responsibility
In 2022, Pinnacle formed a management Climate and Sustainability Committee made up of leaders from across departments that is responsible for climate-related sustainability practices and policies. The group will:
prepare Pinnacle to respond quickly to any climate-related regulatory requirements
assess the firm's physical risks with regard to climate change
assess the firm's risks with regard to the transition to a zero-carbon economy
help identify opportunities presented by the carbon transition and how to serve them
produce a Task Force on Climate-related Financial Disclosures (TCFD) Report annually with a goal of releasing the first report in 2023, if possible
Pinnacle Financial Partners provides a full range of banking, investment, trust, mortgage and insurance products and services designed for businesses and their owners and individuals interested in a comprehensive relationship with their financial institution. The firm is the No. 1 bank in the Nashville-Murfreesboro-Franklin MSA, according to 2022 deposit data from the FDIC, is listed by Forbes as No. 27 among America's Best Banks, higher than any other bank headquartered in Tennessee, North Carolina, South Carolina or Georgia. Pinnacle also earned a spot on the 2023 list of 100 Best Companies to Work For® in the U.S., its seventh consecutive appearance and was recognized by American Banker as one of America's Best Banks to Work For 10 years in a row and No. 1 among banks with more than $11 billion in assets in 2022.
Pinnacle owns a 49 percent interest in BHG Financial, which provides innovative, hassle-free financial solutions to healthcare practitioners and other professionals. Great Place to Work and FORTUNE have listed BHG as a best workplace in multiple categories since 2016.
The firm began operations in a single location in downtown Nashville, TN, in October 2000 and has since grown to approximately $45.1 billion in assets as of March 31, 2023. As the second-largest bank holding company headquartered in Tennessee, Pinnacle operates in 17 primarily urban markets across the Southeast.
Additional information concerning Pinnacle, which is included in the Nasdaq Financial-100 Index, can be accessed at www.pnfp.com.