Pinnacle Financial Partners Builds Interest Rate Derivatives Team with Walt Cherry and Mike Mezza
September 12, 2022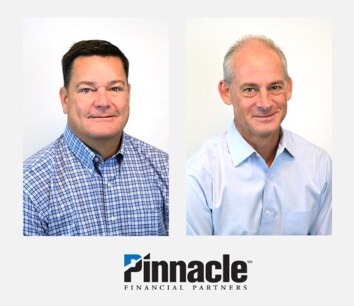 Walt Cherry and Mike Mezza have joined Pinnacle Financial Partners as managing directors for capital markets to lead and expand the firm's interest rate derivatives program. Both veteran financial services professionals will help Pinnacle's commercial and middle market clients manage interest rate risk. They are based at the Atlanta Riverwood office.
"Pinnacle has offered this service for years but did not have a dedicated team of experts to lead it," said Roger Osborne, president of PNFP Capital Markets, Inc. "Walt and Mike bring a level of expertise and experience that will help us grow the program across our footprint and give business leaders more options in lending. It's another way Pinnacle serves its clients with effective advice on sophisticated financial solutions with the distinctive service normally found at much smaller community banks."
Cherry comes from Truist, having spent most of his career at BB&T, and brings 30 years of financial services experience to Pinnacle. He started his career with SunTrust before transitioning to SouthTrust where he, together with Mezza, helped launch that bank's efforts to market interest rate derivatives to clients. In 2005, he joined BB&T as a derivatives marketer and later became manager of the client derivatives group for the bank. Cherry earned his bachelor's from Clemson University and a Master of International Business Studies from the University of South Carolina.
Mezza also comes from Truist and brings 33 years of financial services experience to his role at Pinnacle. He started his career in commercial banking with Fleet Bank and relocated to Atlanta to join Wachovia as a regional corporate banker. As SouthTrust was expanding its capital markets initiatives, Mezza joined Cherry to help build the interest rate derivatives business. The two combined efforts once again at BB&T where they built another successful interest rate hedging platform. Mezza earned a Bachelor of Science degree in Accounting and Business Administration from Syracuse University's Utica College campus.
Pinnacle Financial Partners provides a full range of banking, investment, trust, mortgage and insurance products and services designed for businesses and their owners and individuals interested in a comprehensive relationship with their financial institution. The firm is the No. 1 bank in the Nashville-Murfreesboro-Franklin MSA, according to 2021 deposit data from the FDIC, is listed by Forbes among the top 25 banks in the nation and earned a spot on the 2022 list of 100 Best Companies to Work For® in the U.S., its sixth consecutive appearance. American Banker recognized Pinnacle as one of America's Best Banks to Work For nine years in a row and No. 1 among banks with more than $11 billion in assets in 2021.
Pinnacle owns a 49 percent interest in Bankers Healthcare Group (BHG), which provides innovative, hassle-free financial solutions to healthcare practitioners and other licensed professionals. Great Place to Work and FORTUNE ranked BHG No. 4 on its 2021 list of Best Workplaces in New York State in the small/medium business category.
The firm began operations in a single location in downtown Nashville, TN, in October 2000 and has since grown to approximately $40.1 billion in assets as of June 30, 2022. As the second-largest bank holding company headquartered in Tennessee, Pinnacle operates in 15 primarily urban markets across the Southeast.
Additional information concerning Pinnacle, which is included in the Nasdaq Financial-100 Index, can be accessed at www.pnfp.com.