Historic Economic Opportunity in Middle Tennessee
By Rob McCabe, Pinnacle chairman
March 25, 2019
As Middle Tennessee enters into a historic period of economic development, Pinnacle Financial Partners stands at the front lines of the region's success.
Amazon recently announced it will move operations and logistics headquarters to Nashville with 5,000 jobs. On the same day, EY announced a major new technology center just one mile away with 600 jobs. These dual announcements come on the heels of AllianceBernstein moving its operational headquarters to Nashville. Combined, these three major developments will bring more than 6,600 jobs to downtown Nashville with an average salary of at least $150,000 – numbers unheard of in Tennessee's history.
Any worries about Nashville's boom have faded significantly. This enormous infusion of people with high-paying jobs will not only help Nashville sustain the growth and momentum it has built, but also will present meaningful opportunity for companies like Pinnacle to take part and grow with it.
The Amazon project is the largest jobs announcement in the history of Nashville, and that alone is enough to transform the city's economy. But it is just one example of the kinds of businesses that are attracted to Tennessee's people and business environment. Further, local economic experts are saying that this is the right size development for us. When you compare Nashville's size to that of New York City and Northern Virginia, we believe this is actually a more transformative investment than HQ2, and it comes without the concerns over infrastructure and capabilities that HQ2 would have carried.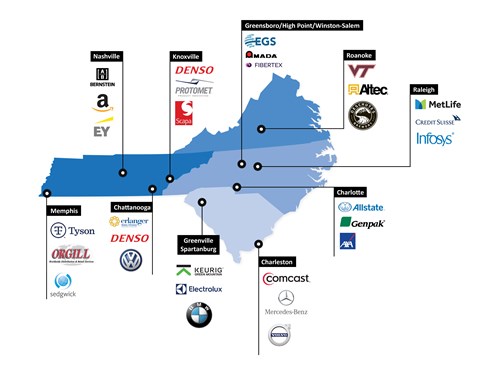 The Amazon and EY announcements add to a growing list of companies expanding their presence and workforce in Pinnacle's major markets.
Together, the Amazon, EY and AllianceBernstein relocations represent hundreds of millions of dollars in private investment in Nashville, with more expected once they open their doors. Through support businesses and meeting the needs of so many new residents, the city can expect multiple jobs to be created for every one that these companies bring. These moves should set the stage for making Nashville's recent economic successes sustainable in the long term and create greater urgency for the community to find solutions to the growing pains that come in any high-growth market.
With so many new workers and so much more money being injected into the economy, opportunities to capitalize on the region's growth will abound for years to come. As a locally owned bank headquartered in the center of it all, Pinnacle is best positioned among financial services firms to reap the benefits.
Pinnacle stands ready to help ancillary companies to Amazon, EY, AllianceBernstein and others as the No. 1 lender to small businesses in Middle Tennessee, significantly ahead of any competition.
Pinnacle is the No. 1 bank in Nashville by deposits, according to FDIC data. As thousands of new residents pour into the area, they will need a place to bank and borrow money.

Nashville Yards, the development where Amazon will occupy two towers, is surrounded on three sides by Pinnacle offices, all within one-half to three-quarters of a mile.

Pinnacle also holds significant share in Nashville's suburban bedroom communities:

Rutherford County – 7 offices and No. 1 in deposit market share
Williamson County – 4 offices and No. 4 in deposit market share
Wilson County – 3 offices and No. 2 in deposit market share
Sumner County – 1 office and No. 10 in deposit market share

Pinnacle is the No. 2 mortgage lender in Nashville. New residents will need to buy homes as they relocate to Middle Tennessee, elevating the city's already record-breaking housing market.
Pinnacle is a full service financial services firm, including robust wealth and investment management capabilities. The firm has four distinct wealth teams in Tennessee:

Pinnacle Asset Management – Investment services through Raymond James Financial Services, Inc.
Trust and Investment Services – Trust management, investment and administration
Pinnacle Wealth Advisors – Registered Investment Advisory unit within Pinnacle for ultra-high net worth individuals and families
Miller Loughry Beach – Insurance services brokerage

With the incredible amount of square footage these three companies will occupy, office space in Nashville will continue to fetch a premium price. Near Amazon's headquarters in Seattle, average Class A rents have risen 46 percent since 2009. At the end of 2018, Pinnacle had nearly $371 million invested in office projects in Middle Tennessee.
Beyond numbers, Pinnacle's leadership and people will ensure the firm has a seat at the table as the economic benefits start to mature.
Pinnacle's president and CEO – and my partner in founding the firm – Terry Turner has built a $25 billion bank from scratch based on a strategy of winning business from much larger institutions and breeding loyalty in its client base. His track record and reputation as a business leader have earned accolades and awards from across the country. Furthermore, he and I built Pinnacle to be "Nashville's Bank" and have succeeded by every metric.
I serve as chairman of both Pinnacle and the Nashville Area Chamber of Commerce, the latter of which is a 2-year term. I also chair the city's electric utility board. I have been a business leader in Middle and East Tennessee for more than 30 years and have developed a vast network of business associates who are some of the leading decision makers in the city and state, including the previous and current governors.
Pinnacle Vice Chairman Ron Samuels has played a role in some of Nashville's most significant economic developments, including building investment for expansion of the airport, bringing the Tennessee Titans to town and forming the ownership group that kept the Nashville Predators hockey team from relocating.
We see ourselves as just the tip of the spear at an organization that has amassed a roster of the very best financial professionals in the Southeast. With more revenue producing financial advisors coming on board every year, along with an entrenched history in Tennessee business, Pinnacle is poised to help its home city and state take full advantage of a bright economic future.