Growing the Family Business by Making Connections
Jack Ward & Sons Plumbing had the same banking partner for 50 years. So what made them uproot their finances and move to Pinnacle? The connections, both personal and business, were unbeatable - and they paid off almost immediately.

Bartley Burnette and his company had been at the same regional bank for 50 years. The family business was built there with their entire financial picture – loans, deposits, credit cards and everything else – firmly in place for three generations.
But when Beth Deering, their favorite banker, pulled up stakes and moved to greener pastures at Pinnacle Financial Partners, they didn't hesitate to follow her.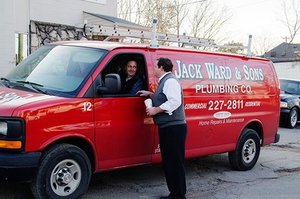 "The ease of doing business is the biggest difference," Bartley said. "Beth checks in on us and responds quickly to what we need. She's also connected us with others who do the same thing."
Beth had known Bartley and his family since high school, long before he took the reins at Jack Ward & Sons Plumbing Co. But this went beyond a personal connection.
What made the difference? Why uproot the business's finances just because someone else made a career move?
"It's all based on the service level," he said. "We understand what it takes to keep customers happy, and Pinnacle's commitment to that is in line with our own. The speed at which they get things done has been beneficial to us. It makes for good partnership."
The move paid off.
The personal and business connections they had with Beth turned into a whole host of connections with other people who could help their business.
First, they found like-minded peers as part of Pinnacle's Mastermind group. They met weekly for an eight-part learning series to explore the book The E-Myth Revisited and the business lessons they could take from it.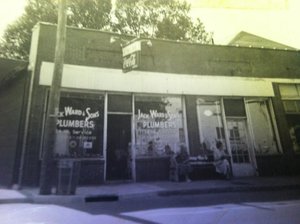 "It was great to hear other people's issues they were dealing with, how they handled those and how they connected to the things we were dealing with running a family-owned business," Bartley said. "It was great to just bounce ideas off of each other."
Bartley came out of his Mastermind group inspired and ready to take Jack Ward & Sons to the next level.
"I think what Bartley took away was the fact that if he wanted his business to grow and be what it was in his mind, he couldn't do it alone," Beth said. "That's a realization every business owner has to come to. They are owners, not just employees. They need to find that balance between working in their business and working on it. That's why we started the Mastermind program."
So Bartley staffed up with specialists who could help execute the strategy he was building. Marketing, operations and transportation pros came on board to take some of the day-to-day responsibilities off his plate so he could focus on growing the business.
Beth did her part, too, by bringing more Pinnacle advisors to the table for the financial side. And with Bartley better able to focus on high-level moves for his company (working on instead of just in), he was in a great spot to tackle finances.
Besides refinancing some debt and helping them buy equipment, Beth opened up lines of credit to keep cash flows flexible and to let Bartley's team be more responsive to urgent needs.
She also introduced him to a specialized team at Pinnacle that handles credit cards for companies his size to see if they could get his fleet management under control.
"We're a service business, and so we have people and trucks going all over the place, and that requires special needs," Bartley said. "Before, we had a fuel card, and it worked OK for us. It wasn't a bad system. But Beth's people moved us to a purchasing card system, which is a lot more flexible and gives us greater control over spending.
"We get real-time information, instead of having to wait for monthly statements. Our guys can use them to pay for repairs and other immediate needs instead of just fuel. And we can monitor closely, keep tabs on what they're spending and cut it off quickly if the need arises. Plus, we get rebates on what we spend."
Even with all the sophisticated services and custom financial products they work with, that personal connection to individuals at the bank is still what keeps Bartley happy.
"I can't say it enough," he said. "The people are super responsive, always pleasant to deal with and make us feel like we're their most important client. Any need I've come up with, they've had a plan and a way to meet it. I can always get them on the phone immediately, and they're looking to help.
"Pinnacle is the perfect bank partner."