News Releases
News Releases
BNC Bancorp Takes Pinnacle Financial Partners Name
Identity change comes three months after merger close
September 25, 2017
BNC Bancorp ("BNC Bank") changed its name and identity to Pinnacle Financial Partners ("Pinnacle") (Nasdaq/NGC: PNFP) today at sign unveiling events in six markets in the Carolinas and Virginia.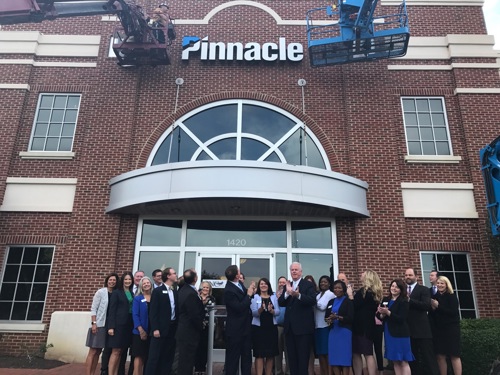 The two firms announced their intent to merge just eight months ago, with the deal officially closing on June 16, 2017. The partnership brings Pinnacle's model of urban community banking to North Carolina, South Carolina and Virginia – its first foray outside of Tennessee.
"The Pinnacle brand may not yet be well known in our new markets, but we are excited to change that by proving ourselves with clients and in the community," said Terry Turner, Pinnacle's president and CEO. "Our ultimate value is in the people who serve our clients, and they aren't changing. The only difference is now they'll have more resources and capabilities than ever before. We all owe a debt of gratitude to the people from both firms who worked tirelessly to make this merger a success."
Throughout the merger and integration process, leadership from both Pinnacle and BNC Bank have repeatedly stressed the importance of consistent leadership and local decision making. Nearly all of BNC Bank's leadership have stayed with the company in the same or similar roles that they held prior to the merger.
"We've successfully made the transition to Pinnacle with the same people and consistent service for clients," said Rick Callicutt, Pinnacle's chairman in the Carolinas and Virginia. "Today we have a new name and a new color scheme, but our local connection to our communities is as strong as ever. We are all excited for this new chapter and ready to keep working hard to meet our neighbors' needs."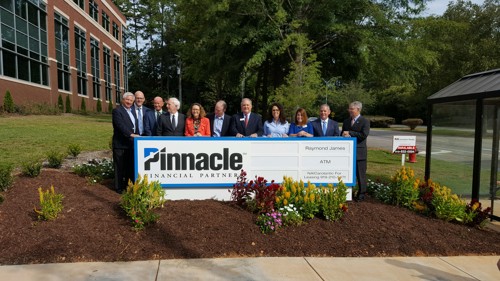 Community and business leaders joined Pinnacle associates and leadership at offices in High Point, Charlotte and Raleigh, North Carolina; Greenville and Mount Pleasant, South Carolina; and Roanoke, Virginia, this morning to unveil the new signs out front and celebrate the bank's new look.
BNC Bank continued under its brand after the merger closed but will now operate as Pinnacle. Systems and operations conversions will continue through 2017.
Pinnacle Financial Partners provides a full range of banking, investment, trust, mortgage and insurance products and services designed for businesses and their owners and individuals interested in a comprehensive relationship with their financial institution. The firm earned a place on Fortune's 2017 list of the 100 Best Companies to Work For in the U.S., and American Banker recognized Pinnacle as the sixth-best bank to work for in 2017.
The firm began operations in a single location in downtown Nashville, TN in October 2000 and has since grown to approximately $20.9 billion in assets as of June 30, 2017. As the second-largest bank holding company headquartered in Tennessee, Pinnacle operates in 11 primarily urban markets in Tennessee, the Carolinas and Virginia.
Additional information concerning Pinnacle, which is included in the NASDAQ Financial-100 Index, can be accessed at www.pnfp.com.