New Look for Online Banking
If you've logged into Pinnacle's Online Banking recently, you'll notice it has a cleaner look. Much of the functionality hasn't changed, but don't be surprised if a few things have moved. The first difference to note is that instead of hovering over a tab to make the menu appear, you need to click on the tab.
It might take a little time to get used to, but the new design includes several added benefits for consumers and businesses.
Consumers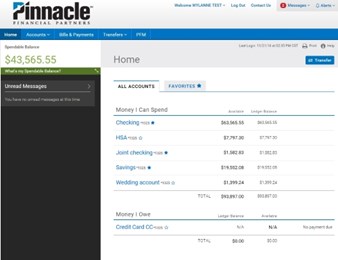 You can see the important account information you need all on one screen. The new "Home" page combines the information that was on the "Snapshot" tab and "Account Summary" page.
A "Spendable Balance" area helps you calculate what you can safely spend. For example, you may want to set aside $20,000 for a new car and want to be sure you don't touch that money. The Available Balance in your primary checking account, subtracted by the amount you wish to set aside, equals your Spendable Balance.
You can check out screenshots and get more details about of the new design here. This reference guide will help you:
See where to check messages and alerts (page 1)
Learn more about how to use your "Spendable Balance" to set aside money that you want to avoid spending (page 3)
Get step-by-step instructions for viewing your statements and history (pages 5-7)
Businesses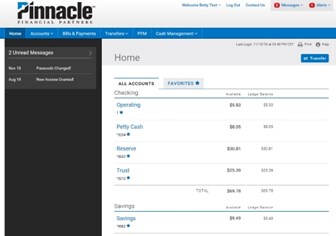 Just like consumers, you can easily see the most important information from the new "Home" screen. In addition, if you have more than six accounts you can select up to 20 as "favorites."
You can check out screenshots and get more details about of the new design here. A few things to note:
The "User Services" tab has gone away—page 2 shows you where to access that information.
You perform actions (view detail, view history, transfer, etc.) in the detail page for that account instead of using the Actions column ("I want to…"). More information is on page 3.
The steps for viewing and downloading history have changed slightly. Detailed instructions for doing both are on pages 5-7.
Other Important Info
If you use Internet Explorer 10 to visit Online Banking, we recommend that you upgrade your browser. Microsoft has stopped releasing general security updates for IE 10 and encourages users to upgrade to the latest browser for a faster, more secure experience.
If you have any questions about the upcoming redesign, please contact our Client Service Center at 1.800.264.3613. Business clients can reach a member of our Treasury Management team at the numbers below.
Nashville - 615-743-6200
Knoxville - 865-766-3044
Memphis - 901-259-5440
Chattanooga - 423-386-2662
Or Toll-Free at 1-866-839-2781
---