Using Equity in Your Home to Accomplish Your Goals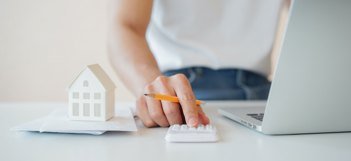 The recent low-rate environment and tighter housing supply have created a strong sellers' market, which can be a good thing for your home equity. Third quarter 2020 data shows that about one in every four homes is considered "equity rich," according to ATTOM Data Solutions, a real-estate data firm.
Home equity is the difference between your mortgage balance and the value of your home. Owners of homes that fit the "equity rich" definition hold 50% or more equity in their properties.
It's a good position to be in, and there are several ways to use this equity to your advantage.
Fixed-rate Home Equity Loan
This is an option if you have a one-time straightforward need such as an attic build-out or new roof. This strategy fits the person who doesn't want the temptation of a revolving line of credit but needs to tap into equity for a one-time use.
Home Equity Line of Credit (HELOC)
People who work on commission or quarterly bonus pay and need access to cash to cover expenses in between may use a home equity line of credit. This type of line is tied to the prime rate, so it's more suited to periodic and short-term needs. Some people use a HELOC to fix up their home while they're prepping it to sell. It can also be used by a buyer to bridge the gap between purchasing a new home and selling the existing one. An offer with no contingency upon selling a property is attractive to sellers.
Interest on a HELOC or a home equity loan may be deductible* if you use the funds for renovations to your home. Be sure to save your receipts and consult a tax professional.
Rate/Term Refinance
If you know you'll be in your home for at least a year or two and you're looking for lower payments to sock away funds for a child's education or continue your own, a straight refinance for a slightly longer term at a substantially lower fixed rate can help. Or, you can use the low-rate environment to your advantage by shortening the term of your mortgage (thereby paying your home off sooner) while keeping your payments roughly the same.
Cash-out Refinance
If you find yourself needing more room in your home or have major upgrades or renovations in your plans, a cash-out refinance can both lower your rate and tap into your equity to improve your home. Another way that homeowners use a cash-out refinance is to pay off higher-interest bills or loans.
And if you're happy with your home and your mortgage? Don't need to tap into your equity? When your credit score is good and you have regular employment, setting up a home equity line of credit means you'll have access to it should your situation change. People with plans to retire sometimes do this in the final years of their career when their debt-to-income ratio is good. Even if they never use it, it's there for emergencies.
Laura Hollis is a mortgage advisor at Pinnacle Financial Partners in Memphis, TN. She can be reached at (901) 259-5635 or laura.hollis@pnfp.com. All loans are subject to credit approval. Ask for details.
---
* Please consult a tax professional regarding tax deductibility.