Catherine Stallings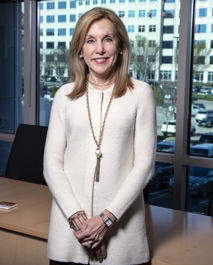 Catherine Stallings serves as chief legal counsel for Pinnacle, leading a team of in-house attorneys and providing direction and strategic advice on legal and regulatory issues to mitigate risk and ensure compliance across the firm. She joined Pinnacle in 2015 when the firm acquired Magna Bank. Stallings had served as executive vice president, general counsel and corporate secretary since Magna was formed in 1999.
After receiving her Juris Doctor degree from the University of Memphis, she practiced commercial, corporate and banking law at Waring Cox law firm. Stallings began her financial services career in 1990 with Leader Federal Bank for Savings, where she was executive vice president, general counsel and corporate secretary. She continued in the same role when Leader Federal merged with Union Planters Bank in 1996.
Stallings earned a bachelor's of business administration degree and a bachelor's of science degree, graduating magna cum laude from the University of Tennessee in Knoxville. She volunteers for the Memphis Garden Club and Dixon Gallery and Gardens and has served on the board of trustees of St. Agnes Academy/St. Dominic School, the board of directors of Court Appointed Special Advocates and on the development committee for The Hutchison School.
Back to List