Scott Southerland Joins Pinnacle Financial Partners
Will serve as a financial consultant in Winston-Salem
June 24, 2020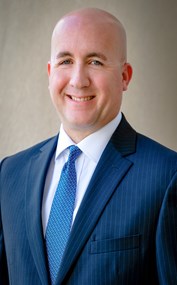 Scott Southerland has joined Pinnacle Financial Partners as a financial consultant for Pinnacle Asset Management serving clients in Winston Salem and throughout the Triad.
"We are pleased to have Scott join the team and help expand our business in North Carolina," said Brad Sears, managing director of Pinnacle Asset Management in the Carolinas and Virginia. "Scott's reputation for client service in wealth management and financial planning makes him the ideal candidate for our team. Bringing him on board demonstrates Pinnacle's continued commitment to the region as a full-service financial partner."
Southerland came to Pinnacle from BB&T Wealth in Winston-Salem, where he worked for 14 years, most recently serving as a wealth advisor. Prior to BB&T, he was with Consolidated Planning as a financial advisor and Sara Lee Corporation as an internal consultant.
Southerland earned a bachelor's degrees in economics and communications from North Carolina State University and a master's degree in business administration from the Babcock Graduate School of Management at Wake Forest University. He is a CERTIFIED FINANCIAL PLANNER® professional and holds Series 7, 6, 63 and 65 securities licenses. Southerland is licensed in North Carolina life and health insurance, and Medicare supplement and long term care insurance.
He is active in the community and is a former vice chair of the trustees of Home Moravian Church, now serving on its finance committee. Southerland also serves on the board of the Tommy Lambeth Foundation.
Pinnacle Asset Management is a division of Pinnacle Financial Partners. The financial advisors there work through Raymond James Financial Services, Inc. to provide advice and services to businesses and individuals with significant investment needs. They have access to the full suite of investment products offered by Raymond James and serve clients from offices in Tennessee, North Carolina, South Carolina, Virginia and Georgia.
About Pinnacle Financial Partners
The team at Pinnacle Financial Partners provides a full range of banking, investment, trust, mortgage and insurance products and services designed for businesses and their owners and individuals interested in a comprehensive relationship with their financial institution. The company earned a spot on FORTUNE's 2020 list of the 100 Best Companies to Work For® in the U.S., its fourth consecutive appearance*. American Banker recognized Pinnacle as one of America's Best Banks to Work For seven years in a row.
The firm began operations in a single location in downtown Nashville, TN in October 2000 and has since grown to approximately $29.3 billion in assets as of March 31, 2020. As the second-largest bank holding company headquartered in Tennessee, Pinnacle operates in 12 primarily urban markets in Tennessee, the Carolinas, Virginia and Georgia.
Additional information concerning Pinnacle, which is included in the Nasdaq Financial-100 Index, can be accessed at www.pnfp.com. 
About Raymond James Financial Services, Inc.
Raymond James Financial Services, Inc., is a financial services firm supporting more than 7,500 independent financial advisors nationwide. Since 1974, Raymond James Financial Services, Inc., member FINRA/SIPC, has provided a wide range of investment and wealth planning related services through its affiliate, Raymond James & Associates, Inc., member New York Stock Exchange/SIPC. Both broker/dealers are wholly owned subsidiaries of Raymond James Financial, Inc. (NYSE-RJF), a leading diversified financial services company with approximately 7,500 financial advisors in 3,000 locations throughout the United States, Canada and overseas. Total client assets are approximately $727 billion.
About the Financial Institutions Division of RJFS
The Financial Institutions Division was established by Raymond James in 1987 to provide banks and credit unions with an alternative to traditional third-party investment providers. Raymond James provides full-service securities brokerage and advisory services to financial institutions seeking to compete with the largest banks and securities firms in the country. In addition to a full complement of investment products and services, Raymond James has the ability to deliver investment banking, public finance, research, self-clearing capabilities and wealth management services to both individuals and institutions.
Securities offered through Raymond James Financial Services, Inc., member FINRA/SIPC. Investment products are: not deposits, not FDIC insured, not insured by any government agency, not bank guaranteed, subject to risk and may lose value. Investment advisory services offered through Raymond James Financial Services Advisors, Inc. Pinnacle Financial Partners, Pinnacle Asset Management and Pinnacle Bank are not registered broker/dealers and are independent of Raymond James Financial Services. Located at 150 3rd Avenue South, Nashville, TN, 37201, (615) 690-1417.