Pinnacle Ranks No. 1 Place to Work for Sixth Time in Memphis
September 10, 2021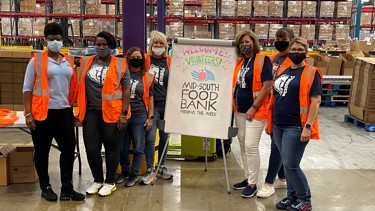 The Memphis Business Journal published annual "Best Place to Work" rankings today, and Pinnacle landed in the No. 1 slot again for a sixth year out of seven. The firm ranked in the "large companies" category of businesses with 150 or more employees. The first time Pinnacle won No. 1 was also its first year in the Memphis market.
"We're thrilled to be honored again with this top ranking," said Phillip May, Pinnacle's Memphis regional president. "It's a testament to countless intentional acts of our nearly 200 Memphis associates, day in and day out, to cherish each other as well as our clients. Leaders make great people-centric decisions about benefits and policies, but it's the entire team that lives by our values of integrity, fairness and partnership to create a culture that really feels noticeably different from any other workplace."
The award is based on research from Quantum Workplace, a leading employee engagement firm. They send anonymous surveys to employees with closed and open-ended questions on culture, camaraderie and other criteria. Average scores from the surveys determine the final rankings and awards.
Dozens of Midsouth companies are eligible, and a handful are chosen as finalists. But just one takes home the top award in each of the four size categories.
Feedback from associates on the survey included:
"I've been in my banking career for 21 years. I often tell others that if I leave Pinnacle, it's because I've changed careers. Because as long as I'm in banking, I don't want to work for any other institution. I've never felt so supported, appreciated, and valued by any other employer."
"I have not ever worked for a company like this one. I didn't think a company/bank like Pinnacle existed in the world. I'm so impressed of how Pinnacle treats their employees; it is so amazing to me … I love that I'm treated as an adult and with respect and care for my well being. I absolutely love working for this company."
"This organization is exceptional in how they truly recognize the importance of each individual in the overall success of the company. We are all owners and excited to be a part of the team … Communication is frequent, open and honest so each associate feels connected and an important part of the organization. Great importance is placed on values and it is exhibited from the highest level."
Earlier this year, Pinnacle was listed by FORTUNE Magazine as No. 26 of their list of the 100 Best Companies to Work For in the United States, No. 8 on their list of the top financial services firms to work for and the No. 4 Best Workplace for Millennials. In 2020, the firm also climbed to the No. 4 spot on the list of  Best Workplaces for Women from FORTUNE magazine and Great Place to Work.®