Pinnacle Lands Best Place to Work Award in Atlanta
September 03, 2021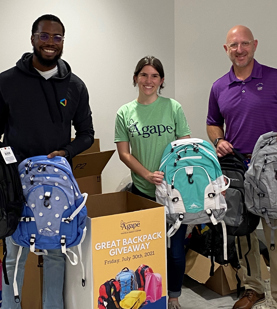 The Atlanta Business Chronicle announced today that Pinnacle Financial Partners is the No. 15 Best Place to Work in Atlanta in the small business category. While the firm has Best Place to Work honors in other cities, this was Pinnacle's first entry and first win locally, just a year and a half after entering the market.
"What a landmark moment for our team as we head into the end of our second year here in Atlanta," said Rob Garcia, regional president. "Like other de-novo Pinnacle teams that came before us, in January 2020 we set out to emulate the one-of-a-kind workplace culture our founders started 21 years ago. We've grown from a team of four to more than 40, and it's rewarding to get feedback that our associates love working here."
The competition is based on third-party research from Quantum Workplace, a leading employee engagement firm. Quantum sends anonymous surveys to employees with closed and open-ended questions on culture, camaraderie, and other criteria. Average scores from these surveys determine the final rankings and awards.
Pinnacle's overall score was 97 out of 100, and 100 percent of the survey responses were assigned the top category of "highly engaged." Pinnacle also scored 100 percent on "senior leaders value associates as our most important resource" and "associates see professional growth and career development opportunities with the firm."
Feedback from associates on the survey included:
"I had heard so much about the Pinnacle culture before joining the firm that frankly I was a little suspicious coming in. My experience at the firm has led me to conclude that the reputation about Pinnacle's culture was not oversold. It is genuine. The impact to our culture is always the top consideration when discussing any new firmwide strategies or initiatives."
"I have worked for other banks in my professional career and was content. Previously I was hired to do a job and paid for my performance. At Pinnacle, I am an important part of a team … We all respect each other and know each team member's duties contribute to the success and end result … Knowing I can access the talents of others benefits the clients we serve … I have never worked at an organization where I felt my co-workers were family and really cared about me as a person. Now, at Pinnacle, I know the feeling!"
"I joined Pinnacle last year. While I thought I was happy at my prior employer, the change has been night and day. The support that I feel from my colleagues and managers is unparalleled and I think a lot of that has to do with the people Pinnacle hires and the compensation structure that has everyone in the company being a shareholder and working towards the same goals. It allows us to actually focus on doing what is best for the client rather than being consumed by internal issues."
Earlier this year, Pinnacle was listed by FORTUNE Magazine as No. 26 of their list of the 100 Best Companies to Work For in the United States, No. 8 on their list of the top financial services firms to work for and the No. 4 Best Workplace for Millennials. In 2020, the firm also climbed to the No. 4 spot on the list of  Best Workplaces for Women from FORTUNE magazine and Great Place to Work.® People magazine named the firm one of the 50 Companies That Care