Pinnacle is the Triad's No. 1 Best Place to Work for a Third Consecutive Year
May 14, 2021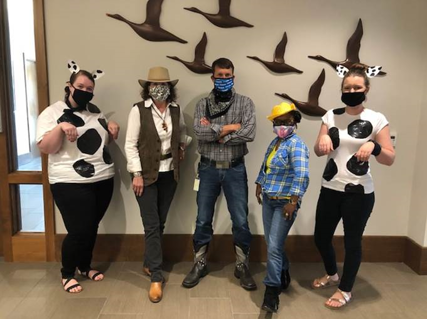 For a third year in a row, Pinnacle Financial Partners has been named the No. 1 Best Place to Work in thePiedmont Triad region of North Carolina. The Triad Business Journal announced the ranking today, among companies with 300+ associates, in the culmination of its annual competition to find the region's top workplaces. This is the third year in a row Pinnacle has earned the top spot on the list,  and one of many local workplace awards the firm has won in North Carolina.
"I couldn't be prouder of this team and the way every associate contributes to our world class culture," said Reid Marks, Pinnacle's regional president for Central North Carolina. "That's what makes Pinnacle stand out: It's not just the leadership that carries the torch. The enthusiasm for developing deep connections with each other and with clients is downright universal. It makes Pinnacle a magnet for the best talent in North Carolina, and clients can feel the difference in the level of service they get every day."
Pinnacle associates in the Triad have consistently given their workplace culture high marks. They had this to say on the company's annual anonymous survey in 2020:
"I appreciate and value that no matter your role, it is made clear how you are important to the success of the Firm."
"When I share an idea, I feel like it is heard and, in some cases, adopted/pursued as opposed to the company where I previously worked."
"I appreciate Pinnacle's people-based approach. I believe in the Pinnacle philosophy that getting to know people and their individual needs is the best way to grow relationships and business. We're not a one-size-fits-all institution."
"I appreciate the freedom and flexibility that we are given to do our job and do it the best way we know how. The firm puts a lot of trust into their associates and expectations are made very clear from our leadership team."
The Triad refers to a region in North Carolina including High Point, Greensboro and Winston-Salem. The Best Places to Work competition is based on third-party research from Quantum Workplace, a leading employee engagement firm. They send anonymous surveys to employees with closed and open-ended questions on culture, camaraderie and other criteria. Average scores from these surveys determine the final rankings and awards.
Dozens of companies are eligible, and only a handful are chosen as finalists.
Earlier this year, Pinnacle was listed by FORTUNE Magazine as No. 14 of their list of the 100 Best Companies to Work For in the United States and No. 8 on their list of the top financial services firms to work for. In 2020, the firm climbed to the No. 4 spot on both the list of Best Workplaces for Millenials and Best Workplaces for Women from FORTUNE magazine and Great Place to Work.® People Magazine named the firm one of the 50 Companies That Care.