Pinnacle is the No. 1 Best Place to Work in the Triad for Fourth Consecutive Year
May 27, 2022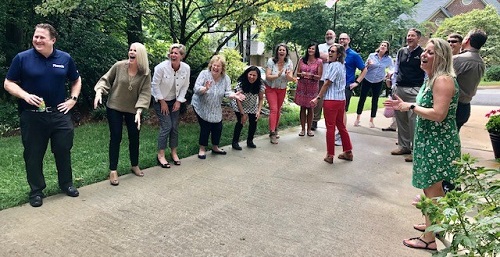 Pinnacle Financial Partners has again been named the No. 1 Best Place to Work in the Piedmont Triad region of North Carolina in the extra-large company category (greater than 300 associates). The Triad Business Journal announced the rankings today in the culmination of its annual competition to find the region's top workplaces. This is the fourth year in a row Pinnacle has earned the top spot on the list, and one of many local workplace awards the firm has won in North Carolina, including No. 1 among Best Places to Work in the Triangle and  No. 1 Top Workplace in Charlotte. 
"Every associate in our region has contributed to the culture that earned this honor," said Reid Marks, Pinnacle's regional president for Central North Carolina. "It takes everyone's participation to make working at Pinnacle a great experience. It's one thing to offer a great benefits package with incentive plans and stock awards or family-friendly policies and programs that encourage work-life balance. We do all that, but the real difference at Pinnacle is how it feels to work here. Do associates enjoy their day-to-day encounters and partnerships with each other in service of our clients? That's the secret sauce, and I think it's why Pinnacle is such a magnet for recruiting experienced professionals."
Associates in the Triad share their experiences on the company's annual anonymous work environment survey. Comments from the 2021 survey included:
"I am appreciative that the firm values me as an individual and not just for what I can bring to the firm."
"I appreciate fact that our firm strives to include everyone regardless of title or position. Our CEO and other high-ranking leaders continue stress and exemplify how we need to help each other and that doing that will make the individual successful and also the firm."
"I appreciate how the Leadership team promotes the vision and values of the firm. Meetings are started with the Mission Statement. Decisions are made with the values in mind."
"I appreciate that we are not numbers driven at the branch level to the point where we are fighting for each account or loan or referral. We know what needs to be done and we work together to meet that goal."
The Triad refers to a region in North Carolina including High Point, Greensboro and Winston-Salem. The Best Places to Work competition is based on third-party research from Quantum Workplace, a leading employee engagement firm. They send anonymous surveys to employees with closed and open-ended questions on culture, camaraderie and other criteria. Average scores from these surveys determine the final rankings and awards. 
Dozens of companies are eligible, and only a handful are chosen as finalists. 
Earlier this year, Pinnacle was listed No. 28 on the 100 Best Companies to Work For in the United States. Last year, the firm landed at No. 8 on the list of the top financial services firms to work for, No. 4 on the list of Best Workplaces for Millenials and No. 6 on the list of Best Workplaces for Women from FORTUNE magazine and Great Place to Work.®