Pinnacle Financial Partners Welcomes Veteran Financial Services Professional
September 19, 2023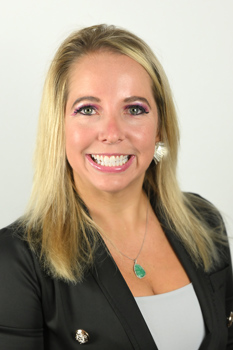 Veteran financial services professional Brandi Gerew, CAE, CMP, has joined Pinnacle Financial Partners. Gerew, a banking veteran with over 18 years of experience, joins the firm as a financial advisor. She will be located at the 3515 Glenwood Avenue location.
"Pinnacle is a magnet for the very best bankers in our market," said Michael Daly, area manager. "Bringing Brandi on board helps us continue to build on our momentum of hiring talented and experienced bankers. Our associates want to be part of the Pinnacle team and help us become one of the top financial services firms in the southeast."
Gerew joins Pinnacle from TowneBank, where she served as private banking officer. In that role, she was responsible for growing and developing business relationships, executing marketing strategy and managing a large portfolio of deposits. She has received several prestigious awards, including the first-ever Women's Innovation Award from North Carolina's Lieutenant Governor Mark K. Robinson.
Gerew is heavily involved in her local community, serving on the board of directors for North Raleigh Ministries, Trucker Down, Gen KIND Inc., Gabi's Grounds/PALs, Seasons Village and The Dereck Wittenburg Foundation. She is a graduate of North Carolina State University and received a Certificate of Excellence in nonprofit leadership and management from Michigan State University.
Pinnacle Financial Partners provides a full range of banking, investment, trust, mortgage and insurance products and services designed for businesses and their owners and individuals interested in a comprehensive relationship with their financial institution. The firm is the No. 1 bank in the Nashville-Murfreesboro-Franklin MSA, according to 2022 deposit data from the FDIC, is listed by Forbes as No. 27 among America's Best Banks, higher than any other bank headquartered in Tennessee, North Carolina, South Carolina or Georgia. Pinnacle also earned a spot on the 2023 list of 100 Best Companies to Work For® in the U.S., its seventh consecutive appearance and was recognized by American Banker as one of America's Best Banks to Work For 10 years in a row and No. 1 among banks with more than $11 billion in assets in 2022.
Pinnacle entered the North Carolina market in 2017 when it acquired BNC Bancorp, offering community bank service with the resources and sophistication of a larger firm. Pinnacle is ranked as the No. 1 workplace in the Triad, Triangle and Charlotte markets, as listed by the Triad Business Journal, Triangle Business Journal and Charlotte Observer.
The firm began operations in a single location in downtown Nashville, Tenn., in 2000 and has since grown to approximately $46.9 billion in assets as of June 30, 2023. As the second-largest bank holding company headquartered in Tennessee, Pinnacle operates in 17 primarily urban markets across the Southeast.
Additional information concerning Pinnacle, which is included in the Nasdaq Financial-100 Index, can be accessed at www.pnfp.com.