News Releases
News Releases
Pinnacle Financial Partners to Relocate Main Office in Roanoke
Newly constructed building at the gateway to downtown opens in March
February 10, 2020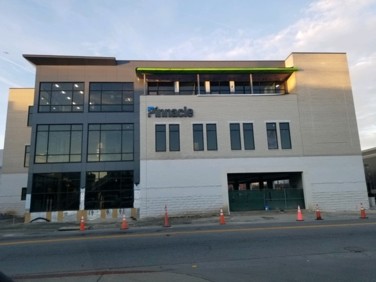 Pinnacle Financial Partners is opening a new main office for Western Virginia at 202 Campbell Ave. SE. This represents a significant investment in the community and the region with the construction of a landmark building at the gateway to downtown.
All associates currently working from the Church Avenue office will move to the Campbell Avenue office. It will officially open March 16, 2020, with some financial advisors and other associates moving in February. It replaces the office at 36 Church Ave., SW, which will close on March 13, 2020.
"This is the first new construction downtown Roanoke has seen in decades, and it's a beautiful addition," said David Allen, Pinnacle's regional president for Western Virginia. "We're just one block from Market Square, right next to 581 and the Taubman Museum, perfectly positioned to be a key part of our city's central district for many years to come."
The new building was designed with an exterior of brick, stone, metal and glass to respect the overall aesthetics of downtown Roanoke and includes elements meant to evoke the region's railroad past. The interior matches the style of Pinnacle's other new offices, with large amounts of natural light, light blond wood and metal features. And it will include Pinnacle's signature feature, a Learning Center with full audio-visual capabilities for financial education events with clients and neighbors and community meetings.
"Like everything we do, this office was designed to make it easy for our clients to do business," Allen said. "It's easy to access and gives us plenty of room to work with clients at the counter or in private offices. Many of our business-focused financial advisors will call this their home base, and we'll also be able to offer our full suite of personal banking services here. We want this to be the kind of bank Roanoke deserves."
The office is three stories with 25,000 square feet of space and includes onsite parking underneath with more spaces available in the rear near Norfolk Avenue. It also has an ATM with 24-hour access. The architect was Balzer & Associates with Hist:Re Partners as the general contractor—both based in Roanoke—and K. Myers Design of Winston-Salem, NC, responsible for the interiors.
 Pinnacle Financial Partners provides a full range of banking, investment, trust, mortgage and insurance products and services designed for businesses and their owners and individuals interested in a comprehensive relationship with their financial institution. Pinnacle earned a spot on FORTUNE's 2019 list of the 100 Best Companies to Work For® in the U.S., its third consecutive appearance. American Banker recognized Pinnacle as one of America's Best Banks to Work For seven years in a row.
Pinnacle entered the Virginia market in 2017 when it acquired BNC Bancorp. Pinnacle continues BNC's practice of offering community bank service with the resources and sophistication of a larger firm. The firm was recognized as the No. 6 Best Place to Work in Virginia by Virginia Business magazine in 2020.
The firm began operations in a single location in downtown Nashville, TN in October 2000 and has since grown to approximately $27.8 billion in assets as of Dec. 31, 2019. As the second-largest bank holding company headquartered in Tennessee, Pinnacle operates in 12 primarily urban markets in Tennessee, the Carolinas, Virginia and Georgia.  
Additional information concerning Pinnacle, which is included in the Nasdaq Financial-100 Index, can be accessed at www.pnfp.com.