Pinnacle Financial Partners Opens First Full-service Office in Lynchburg
June 22, 2020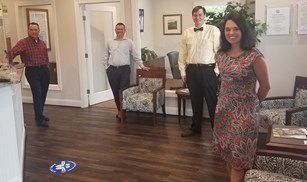 Pinnacle Financial Partners has strengthened its commitment to Lynchburg with the opening of its first full-service office in the market. The location at 1610-B Graves Mill Road is open today and ready to serve nearly any financial need. 
"Our team has already built an enormous amount of success in Lynchburg, and we're ready to take that to another level," office leader Russ Smith said. "With the full strength of this firm behind us, we will accomplish so much for our clients and this community. It's an honor to be able to create something from the ground up to serve the place where we all have very deep roots."
This location opened as a loan production office (LPO) two years ago exactly. Now that the Lynchburg office also accepts deposits and offers other non-lending services, Pinnacle has expanded its local capabilities significantly.
"Pinnacle's secret to success if offering a deep well of sophisticated financial services with the feeling of a small community bank," Smith said. "We can meet any financial need with a local team who give personal attention and customized solutions. While we have a lot of tools and products at our disposal, the best we have to offer are our people and the service and advice they give."
Smith joined Pinnacle in March and will manage the office and serve personal and small business clients. In addition to him, the Lynchburg office includes:
Luke Towles, financial advisor serving commercial clients, who joined the firm in March
Scott Hall, financial advisor serving commercial clients, who has been with Pinnacle since 2016
Sherry Garrett, financial advisor assistant supporting the team, who joined the firm in 2018
Nikki McVey, financial specialist serving clients' everyday needs, who joined the firm in May
They offer Pinnacle's full suite of financial services from deposit accounts and mortgages to commercial banking and treasury products. Wealth management services are also available with support from Pinnacle associates in nearby Roanoke.
Though Pinnacle has had a limited presence in Lynchburg since 2018, it has built a significant client base as part of the firm's footprint in Western Virginia. Combined with Roanoke, Pinnacle holds more than $540 million in loans in the area, as of March 31, 2020, which was a 14.6 percent increase over the previous year. Now that the Lynchburg office is full service, it can reach more Virginia clients than ever before.
New Additions to Team Pinnacle in Lynchburg
Russ Smith, Office Leader
Smith has 13 years of financial services experience and comes to Pinnacle from Wells Fargo, where he was a regional banking branch manager. He previously served that bank up until 2016 as a manager and spent three years at BB&T in between, where he was a market leader and small business banker. Smith earned his bachelor's degree in business at the University of Virginia's College at Wise. He serves on the board of the Minutemen Club with Liberty High School, coaches youth sports for Help Our Youth Excel and has taken part in Leadership Lynchburg.
Luke Towles, Financial Advisor
Towles has 21 years of financial services experience and comes to Pinnacle from Wells Fargo, where he was a market manager serving the Southwest Virginia region. Prior to that, he held management positions in business and retail banking at BB&T. Towles earned a bachelor's degree from Liberty University. He has served on the boards for the Lynchburg Regional Business Alliance, Business on Mission Conference, Liberty University Center for Entrepreneurship and the Academy Center of the Arts.
Nikki McVey, Financial Specialist
McVey has eight years of financial services experience and comes to Pinnacle from Beacon Credit Union, where she was a branch manager. Prior to that, she was with Wells Fargo as a lead teller and then a service manager. McVey attended Central Piedmont Community College. She volunteers with Court Appointed Special Advocates (CASA), Relay for Life and United Way and is involved in youth sports programs.
Pinnacle Financial Partners provides a full range of banking, investment, trust, mortgage and insurance products and services designed for businesses and their owners and individuals interested in a comprehensive relationship with their financial institution. Pinnacle earned a spot on FORTUNE's 2020 list of the 100 Best Companies to Work For® in the U.S., its fourth consecutive appearance. American Banker recognized Pinnacle as one of America's Best Banks to Work For seven years in a row.
Pinnacle entered the Virginia market in 2017 when it acquired BNC Bancorp. Pinnacle continues BNC's practice of offering community bank service with the resources and sophistication of a larger firm. The firm was recognized as the No. 6 Best Place to Work in Virginia by Virginia Business magazine in 2020.
The firm began operations in a single location in downtown Nashville, TN in October 2000 and has since grown to approximately $29.3 billion in assets as of March 31, 2020. As the second-largest bank holding company headquartered in Tennessee, Pinnacle operates in 12 primarily urban markets in Tennessee, the Carolinas, Virginia and Georgia.
Additional information concerning Pinnacle, which is included in the Nasdaq Financial-100 Index, can be accessed at www.pnfp.com.