Pinnacle Financial Partners Forms First Dedicated Equipment Finance Team
Kris Foster, Jason Fronheiser and Greg Pinchback join the firm to lead new specialty lending unit
September 21, 2021
Pinnacle Financial Partners today announced the hiring of three veteran financial advisors to spearhead an equipment finance effort with a nationwide scope. Kris Foster has joined the firm to lead the equipment finance initiative, with Greg Pinchback and Jason Fronheiser on board as financial advisors. Foster is based in Nashville, Pinchback in Houston and Fronheiser in Dallas.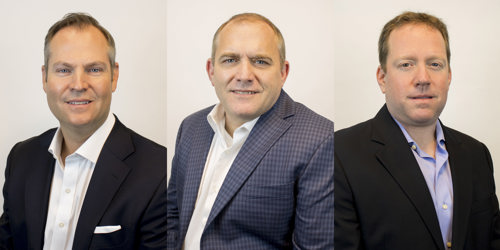 "I couldn't imagine a better team to help us build this capability at Pinnacle," said Sam Belk, senior lending officer at Pinnacle. "I have known and worked with each of them and can attest to the depth of their knowledge and experience in making the complex world of equipment finance work for companies at all levels. More importantly, I know they can do it with the kind of personal attention and service Pinnacle is known for. Bringing them on board will allow us to transition equipment finance from a one-time transaction to a core offering for our small business and middle market clients."
The firm has helped clients with options for leasing and finance on a limited basis, and Foster, Pinchback and Fronheiser will build on that. Their industry knowledge and combined 61 years of experience will allow financial advisors across Pinnacle's footprint to offer more solutions to existing clients, and they will also pursue new business throughout the Southeast and across the country.
"Since Day One, we've strived to offer everything a client could need from a financial services firm," Pinnacle Chairman Rob McCabe said,. "As our reach and resources grow, our capabilities need to include complex and specialized services like equipment finance. This specialty lending unit has the potential to grow very quickly into a significant part of our overall assets. It also allows us to meet a common need for our clients with in-house specialists who are knowledgeable of their industries, the equipment and how to make a deal work."
Foster brings 24 years of experience to Pinnacle, most recently as a regional sales manager for Wells Fargo Equipment Finance in Louisville, KY. He led a team of dozens of sales, documentation, credit and underwriting officers who covered the central and eastern regions, which make up two-thirds of the country. He worked at Wells for a total of 14 years, and prior to that served in equipment finance roles for CIT, Fifth Third and PNC.
Foster earned his bachelor's degree from Otterbein University in Ohio and his MBA from Auburn University. He was a regional hub leader with United Way's national fundraising campaigns and volunteers to help veterans with career development through American Corporate Partners.
Pinchback has 23 years of experience and also comes from Wells Fargo, where he was a relationship manager for equipment finance working with middle market companies in the Gulf Coast region. He also spent time as a specialty markets manager focused on the marine and energy industries, as well as a territory manager. He's also worked at BOK Financial (Bank of Texas), CIT, GE Commercial Finance and other firms specializing in equipment finance. Pinchback earned his bachelor's degree from Texas State University.
Fronheiser has 14 years of experience in financial services and also comes from Wells Fargo. He spent four years as a business development officer specializing in equipment finance, and prior to that did similar work at CIT, Fifth Third and General Electric Capital. In addition, he brings to Pinnacle the unique perspective of a construction company leader, having served as chief financial officer at Fronheiser Construction for 10 years.
Fronheiser earned his bachelor's degree from Penn State University and his MBA from Southern Methodist University. He volunteers with Meals on Wheels and Habitat for Humanity.
Pinnacle Financial Partners provides a full range of banking, investment, trust, mortgage and insurance products and services designed for businesses and their owners and individuals interested in a comprehensive relationship with their financial institution. The firm is the No. 1 bank in the Nashville-Murfreesboro-Franklin MSA, according to 2021 deposit data from the FDIC. Pinnacle earned a spot on the 2021 list of 100 Best Companies to Work For® in the U.S., its fifth consecutive appearance. American Banker recognized Pinnacle as one of America's Best Banks to Work For eight years in a row and No. 1 among banks with more than $10 billion in assets in 2020.
Pinnacle owns a 49 percent interest in Bankers Healthcare Group (BHG), which provides innovative, hassle-free financial solutions to healthcare practitioners and other licensed professionals. Great Place to Work and FORTUNE ranked BHG No. 1 on its 2020 list of Best Workplaces in New York State in the small/medium business category.
The firm began operations in a single location in downtown Nashville, TN, in October 2000 and has since grown to approximately $35.4 billion in assets as of June 30, 2021. As the second-largest bank holding company headquartered in Tennessee, Pinnacle operates in 14 primarily urban markets across the Southeast.
Additional information concerning Pinnacle, which is included in the Nasdaq Financial-100 Index, can be accessed at www.pnfp.com.