Pinnacle Financial Partners' Annual Report Speaks to Stability and "Sustainable Advantage" in Challenging Times
Shareholder letter details how firm's design helps insulate it from short-term turmoil; video stories illustrate that design in action
March 14, 2023
Pinnacle Financial Partners has released its 2022 Annual Report, which not only details its performance but also catalogs how the firm is designed from its very foundations to weather tough economic environments.
From the shareholder letter by President and CEO Terry Turner and Chairman Rob McCabe:
"No doubt the banking industry is subject to the macro-economic environment. Banks depend on the demand for loan funding, growing margins that are subject to interest rate fluctuations and the overall economic health of the markets we serve. When times get tough, bank growth often gets tough too.
"We designed Pinnacle with a thick layer of insulation from those factors. We're not immune, but we're much less dependent on having an ideal economic environment to achieve our goals and reward our associates and shareholders."
…
"Our growth model is based on taking talent and market share from our competitors, not relying on calling a list of prospects and asking to loan them money. That makes Pinnacle substantially less dependent on things like interest rate movements, inflation and other short-term concerns that snag other banks time and again."
…
"We built our firm to thrive and produce value in challenging times as well as easy ones. We believe our growth model allows us to rise above short-term turmoil and gives us a sustainable advantage in creating long-term shareholder value.
"Because of that, we can push forward on our mission through thick and thin. The model on which we built our firm helped us weather the dotcom bust and 9/11, the Great Recession and COVID-19 and its lingering effects."
Pinnacle's Annual Report includes testaments to its stability and the capabilities to structure client and firm finances in ways that offer extra layers of protection. From a large technology client who methodically did his research on the firm in a new expansion market to the strategies for attracting, structuring and retaining large amounts of secure deposits, the report offers multiple illustrations of Pinnacle's advantages for all stakeholders.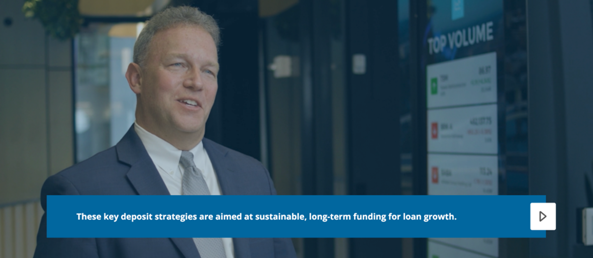 Pinnacle's large deposit strategies include engaging the IntraFi network for securely structuring large pools of liquid assets beyond traditional limits of FDIC insurance.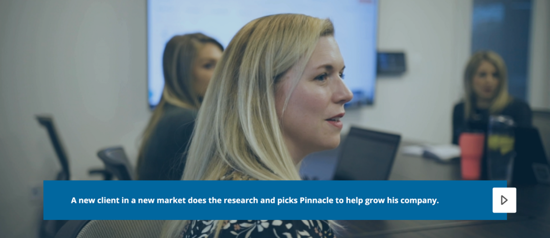 Pinnacle was largely unknown in the National Capital Region. But the CFO of this large technology firm did his research and trusted the financial advisor who was helping build Pinnacle's presence in the market.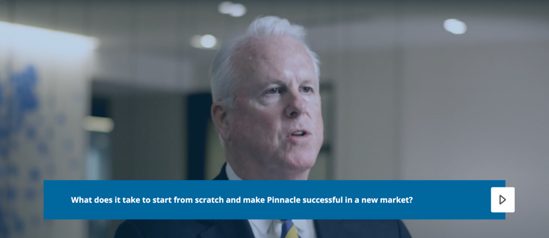 Expanding into new markets through de novo startups is a solid and sustainable long-term strategy for a firm that can attract top talent consistently from year to year.


Pinnacle financial advisors have worked since March 10 to help former Silicon Valley Bank and Signature Bank clients in the firm's local markets and will continue to assist as many businesses and entrepreneurs as they can as the situation develops. Similar to the days of the Paycheck Protection Program, Pinnacle is operating in an "all hands on deck" environment to protect local companies, their employees and investors.
"No one likes a crisis, but our people shine in times of need," said Bryan Bean, Pinnacle's senior lending officer responsible for large corporate banking. "Their dedication to serving the needs of our community and their hearts to serve are putting us in a prime position to fill the gaps created by bank turmoil. Clients from these banks are spread far and wide, including in some of the tech-forward markets we serve. We're working as hard and as quickly as we can to help make them whole and put them in stronger financial positions so they can continue their work and pay their people."
Pinnacle's Annual Report is available at AnnualReport.PNFP.com. The videos linked above, as well as many others, are always available at YouTube.com/WatchPNFP.
Pinnacle Financial Partners provides a full range of banking, investment, trust, mortgage and insurance products and services designed for businesses and their owners and individuals interested in a comprehensive relationship with their financial institution. The firm is the No. 1 bank in the Nashville-Murfreesboro-Franklin MSA, according to 2022 deposit data from the FDIC, is listed by Forbes as No. 27 among America's Best Banks, higher than any other bank headquartered in Tennessee, North Carolina, South Carolina or Georgia. Pinnacle also earned a spot on the 2022 list of 100 Best Companies to Work For® in the U.S., its sixth consecutive appearance and was recognized by American Banker as one of America's Best Banks to Work For 10 years in a row and No. 1 among banks with more than $11 billion in assets in 2022.
Pinnacle owns a 49 percent interest in BHG Financial, which provides innovative, hassle-free financial solutions to healthcare practitioners and other professionals. Great Place to Work and FORTUNE have listed BHG as a best workplace in multiple categories since 2016.
The firm began operations in a single location in downtown Nashville, TN, in October 2000 and has since grown to approximately $42.0 billion in assets as of December 31, 2022. As the second-largest bank holding company headquartered in Tennessee, Pinnacle operates in 17 primarily urban markets across the Southeast.
Additional information concerning Pinnacle, which is included in the Nasdaq Financial-100 Index, can be accessed at www.pnfp.com.