NABC Recycled Rides Joins Pinnacle and Others Present a Car to Ronald McDonald House Charities in Memphis
November 26, 2021
On Thursday, November 18, three Tennessee-based companies, along with Allstate and the National Auto Body Council Recycled Rides® program, teamed up to make life easier for families staying at the Ronald McDonald House in Memphis. The group presented a 2018 Chevrolet Tahoe that was donated by Allstate and refurbished by Carey's Body Shop for families to use as a courtesy vehicle while their children are being treated at nearby St. Jude Children's Research Hospital.
The presentation was held at Pinnacle Financial Partners Memphis main office. More than 100 guests gathered for the event, including Pinnacle Financial Partners Chairman Rob McCabe and numerous team members, Ronald McDonald House Charities – Memphis board members and leadership team, National Auto Body Council® board chairman Clint Marlow of Allstate, Anthony Natale and Katie Pharr, both of Nashville-based Nexterra, along with NABC® President and CEO Bill Garoutte. The leadership and team members of Carey's Body Shop, based in Memphis, also joined the festivities.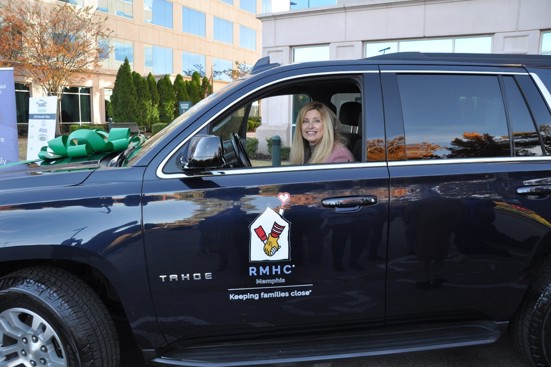 "We are so thankful for our community partners for helping us to better serve our families especially in an ever changing environment," said Jill Crocker, executive director for Ronald McDonald House Charities -- Memphis. "This gift will alleviate the stress of our families while staying at RMHC-Memphis related to transportation needs and will especially eliminate missed appointments and enhance our grocery program.
The Honorable Lee Harris, Mayor of Shelby Country, recognized the milestone with a proclamation naming November 18th as "Ronald McDonald House Charities and NABC Recycled Rides® Day" in Memphis.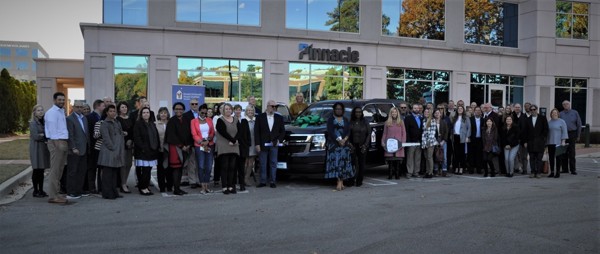 "A special thank you to our host today, Pinnacle Financial Partners, as well as to our host city, Memphis, and its mayor. What an honor to work with so many great companies and partners to create this special presentation to Ronald McDonald House Charities – Memphis," said Garoutte. "Many thanks to everyone who contributed to making this possible. We hope that, together, we can help make life easier for families going through treatment for their children here."
NABC Recycled Rides® is a unique program in which businesses representing all facets of the collision repair industry team up to repair and donate vehicles to individuals and families in need of reliable transportation. Since the inception of the NABC Recycled Rides® program in 2007, members of the National Auto Body Council® have donated more than 2,750 vehicles valued at more than $38 million.
Additional partners in the NABC Recycled Rides® presentation included 1.800 Charity Cars.

About Pinnacle Financial Partners
Pinnacle Financial Partners provides a full range of banking, investment, trust, mortgage and insurance products and services designed for businesses and their owners and individuals interested in a comprehensive relationship with their financial institution. Pinnacle earned a spot on FORTUNE's 2021 list of 100 Best Companies to Work For® in the U.S., its fifth consecutive appearance. American Banker recognized Pinnacle as one of America's Best Banks to Work For nine years in a row and No. 1 among banks with more than $11 billion in assets in 2021.
Pinnacle has served Memphis since 2015 when it acquired Magna Bank. Since then Pinnacle has become the official bank of the Memphis Grizzlies and FedExForum and was named a "Top 10 Company to Watch in 2017" by the Greater Memphis Chamber. Pinnacle was named No. 1 "Best Place to Work" by the Memphis Business Journal in six of the last seven years. 
The firm began operations in a single location in downtown Nashville, TN, in October 2000 and has since grown to approximately $36.5 billion in assets as of Sept. 30, 2021. As the second-largest bank holding company headquartered in Tennessee, Pinnacle operates in 14 primarily urban markets across the Southeast.
Additional information concerning Pinnacle, which is included in the Nasdaq Financial-100 Index, can be accessed at www.pnfp.com.
About Nexterra
Nexterra Solutions Group is the leading claims management provider to the property, casualty, and automotive communities, delivering a seamless concierge experience that provides peace of mind by streamlining end-to-end claims management and restoration processes. Founded in 1988, Nexterra is the parent company of Dent Concepts International and Allied Overspray, providing advanced services for stand-alone, concierge and ala carte claims management, auto physical damage assessment and repair, catastrophic event mitigation during hailstorms, tornados and hurricanes, and overspray remediation. For more information, please visit www.nexterras.com.
About the Ronald McDonald House Charities – Memphis
Ronald McDonald House Charities® of Memphis offers children with pediatric cancer and other catastrophic illnesses undergoing treatment at St. Jude Children's Research Hospital® and their families a nurturing, family-centered residential community. The House fosters an environment of hope through support services and child-centered activities that encourage children to be children and keep families together near the care they need, always free of charge.
Near the care they need with the family they love.
About the National Auto Body Council®
The National Auto Body Council®, which celebrated its' 25th anniversary in 2020, is the premier organization of collision industry partners dedicated to strategic networking opportunities that positively change lives in the communities we serve. The collaborative membership of the National Auto Body Council® has gifted more than 2,750 vehicles, provided extrication opportunities for more than 4,800 First Responders and contributed to thousands of distracted driving pledges in communities through NABC Recycled Rides®, NABC First Responder Emergency Extrication (F.R.E.E.™) and the NABC Drive Out Distraction program. That effort equates to a 4:1 ROI in dollar value delivered from NABC® membership dollars. The National Auto Body Council® is changing the paradigm of how the collision industry works and is viewed. For more information, visit www.NationalAutoBodyCouncil.org.
###