Michael Frazee Joins Pinnacle Financial Partners
March 12, 2021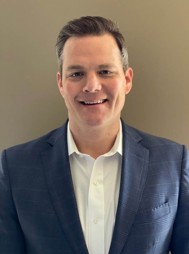 Nashville commercial real estate lender Michael Frazee has joined Pinnacle Financial Partners as a financial advisor, based at the firm's Symphony Place headquarters office. Frazee is part of commercial real estate manager Tyler Muesch's Nashville team.
"Michael has been successful at developing long-standing client relationships both locally and regionally," said Muesch. "His dedication to client service makes him a great fit for our culture here. We are very happy he has joined our team."
Prior to joining Pinnacle, Frazee was a commercial real estate lender at First Horizon Bank in Brentwood for more than a decade. He also worked for SunTrust for seven years.
Frazee earned a bachelor's degree in finance and general business from Francis Marion University in Florence, SC. He serves on the board of directors for NAIOP, the commercial real estate development association, and is active with the Urban Land Institute. Frazee also serves on the board of The Housing Fund, a community development financial institution.
Pinnacle Financial Partners provides a full range of banking, investment, trust, mortgage and insurance products and services designed for businesses and their owners and individuals interested in a comprehensive relationship with their financial institution. The firm is the No. 1 bank in the Nashville-Murfreesboro-Franklin MSA, according to 2020 deposit data from the FDIC. Pinnacle earned a spot on the 2020 list of 100 Best Companies to Work For® in the U.S., its fourth consecutive appearance. American Banker recognized Pinnacle as one of America's Best Banks to Work For eight years in a row and No. 1 among banks with more than $10 billion in assets in 2020.
Pinnacle owns a 49 percent interest in Bankers Healthcare Group (BHG), which provides innovative, hassle-free financial solutions to healthcare practitioners and other licensed professionals. Great Place to Work and FORTUNE ranked BHG No. 1 on its 2020 list of Best Workplaces in New York State in the small/medium business category.
The firm began operations in a single location in downtown Nashville, TN in October 2000 and has since grown to approximately $34.9 billion in assets as of Dec. 31, 2020. As the second-largest bank holding company headquartered in Tennessee, Pinnacle operates in 12 primarily urban markets in Tennessee, the Carolinas, Virginia and Atlanta.
Additional information concerning Pinnacle, which is included in the Nasdaq Financial-100 Index, can be accessed at www.pnfp.com.