Senior Trust & Fiduciary Specialist Chooses Pinnacle
June 09, 2021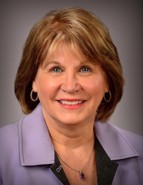 Experienced trust and fiduciary specialist Jan Beatty-Hendley has joined Pinnacle Financial Partners as a relationship manager for Pinnacle Asset Management. She is based at the company's Concord office at 271 Copperfield Blvd.
"Jan is well-known in the area and has been serving clients in Metrolina for over 34 years at Wells Fargo," said Brad Sears, managing director of Pinnacle Asset Management in the Carolinas and Virginia. "We're so glad she chose Pinnacle. Jan's approach to client service and attention to relationships make her a great fit for our culture and for clients."
Beatty-Hendley came to Pinnacle from Wells Fargo Bank, most recently serving as senior trust and fiduciary specialist for the greater Charlotte region.
Beatty-Hendley earned bachelor's degree from the University of South Carolina graduating magna cum laude. In addition, she completed a specialized financial planning program at Queens University in Charlotte, NC and earned the professional designation of Certified Trust and Financial Advisor (CTFA). She also completed Cannon's Trust Tax school held at UNCC.
Pinnacle Asset Management is a division of Pinnacle Financial Partners. The financial advisors there work through Raymond James Financial Services, Inc. to provide advice and services to businesses and individuals with significant investment needs. They have access to the full suite of investment products offered by Raymond James and serve clients from offices in Tennessee, North Carolina, South Carolina and Virginia. 
About Pinnacle Financial Partners
The team at Pinnacle Financial Partners provides a full range of banking, investment, trust, mortgage and insurance products and services designed for businesses and their owners and individuals interested in a comprehensive relationship with their financial institution. The company earned a spot on FORTUNE's 2019 list of the 100 Best Companies to Work For® in the U.S., its third consecutive appearance. American Banker recognized Pinnacle as one of America's Best Banks to Work For seven years in a row.
The firm began operations in a single location in downtown Nashville, TN in October 2000 and has since grown to approximately $27.8 billion in assets as of Dec. 31, 2019. As the second-largest bank holding company headquartered in Tennessee, Pinnacle operates in 12 primarily urban markets in Tennessee, the Carolinas and Virginia as well as Atlanta.  
Additional information concerning Pinnacle, which is included in the Nasdaq Financial-100 Index, can be accessed at pnfp.com.
About Raymond James Financial Services
Raymond James Financial, Inc. (NYSE: RJF) is a leading diversified financial services company providing private client group, capital markets, asset management, banking and other services to individuals, corporations and municipalities. The company has approximately 8,100 financial advisors throughout the United States, Canada and overseas. Total client assets are $896 billion.* Public since 1983, the firm is listed on the New York Stock Exchange under the symbol RJF. Additional information is available at raymondjames.com.
*As of 12/31/2019. Past performance is not an indication of future results. The information provided is for informational purposes only and is not a solicitation to buy or sell Raymond James Financial stock.
 About the Financial Institutions Division
The Financial Institutions Division was established by Raymond James in 1987 to provide banks and credit unions with an alternative to traditional third-party investment providers. Raymond James provides full-service securities brokerage and advisory services to financial institutions seeking to compete with the largest banks and securities firms in the country. In addition to a full complement of investment products and services, Raymond James has the ability to deliver investment banking, public finance, research, self-clearing capabilities and wealth management services to both individuals and institutions.
Securities offered through Raymond James Financial Services, Inc., member FINRA/SIPC, are not insured by bank insurance, the FDIC, or any other government agency, are not deposits or obligations of the bank, are no guaranteed by the bank, and are subject to risks, including the possible loss of principal. Raymond James Financial Services Advisors, Inc., Pinnacle Financial Partners, Pinnacle Asset Management and Pinnacle Bank are not registered broker/dealers and are independent of Raymond James Financial Services. Investment advisory services are offered through Raymond James Financial Services Advisors, Inc. Located at 150 3rd Avenue South, Nashville, TN, 37201, (615) 690-1417.