Dan Greene, Lee Mclellan and Austyn Jablonski Join Pinnacle Asset Management
June 01, 2022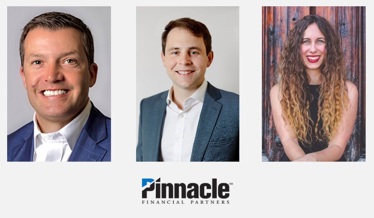 Experienced financial professionals Dan Greene, Lee McLellan and Austyn Jablonski joined Pinnacle Financial Partners as part of the Pinnacle Asset Management team. Greene serves as a financial consultant at the Cool Springs Mallory Lane office, while McLellan is an investment representative based at Nashville Symphony Place and Jablonski serves as a sales assistant at the firm's Baggage Building office downtown. 
"Dan, Lee and Austyn have built a reputation for providing their clients the level of service and advice that Pinnacle is known for," said Gary Collier, executive director for Pinnacle Asset Management. "Pinnacle continues to attract talented, experienced people like them because our award-winning culture is a magnet for people who have a heart to serve. They are a perfect fit for our firm."
Greene has more than 20 years of financial services experience, most recently at Putnam Investments, where he had been a senior regional advisor consultant for 10 years. He also worked for Sun Life Financial of Canada, Lincoln Financial Distributors, Planco/Hartford and the United Parcel Service. Greene earned a bachelor's degree in industrial labor relations from State University of New York at Potsdam.
McLellan has six years of experience, most recently at Western & Southern Financial Group as a senior regional vice president. Prior to that he was a business development consultant and internal wholesaler at Jackson National. McLellan earned his bachelor's degree in managerial finance and real estate from the University of Mississippi.
Jablonski has seven years of experience and comes to Pinnacle from Wiatr & Associates, LLC. She earned a bachelor's degree in communications studies and journalism from Belmont University.
Pinnacle Asset Management is a division of Pinnacle Financial Partners. The financial advisors there work through Raymond James Financial Services, Inc. to provide advice and services to businesses and individuals with significant investment needs. They have access to the full suite of investment products offered by Raymond James and serve clients from offices across Pinnacle's footprint. 
About Pinnacle Financial Partners
The team at Pinnacle Financial Partners provides a full range of banking, investment, trust, mortgage and insurance products and services designed for businesses and their owners and individuals interested in a comprehensive relationship with their financial institution. The company earned a spot on FORTUNE's 2022 list of the 100 Best Companies to Work For® in the U.S.*, its sixth consecutive appearance. American Banker recognized Pinnacle as one of America's Best Banks to Work For nine years in a row and No. 1 among banks with more than $11 billion in assets in 2021.
The firm began operations in a single location in downtown Nashville, TN, in October 2000 and has since grown to approximately $39.4 billion in assets as of March 31, 2022. As the second-largest bank holding company headquartered in Tennessee, Pinnacle operates in 15 primarily urban markets across the Southeast.
Additional information concerning Pinnacle, which is included in the Nasdaq Financial-100 Index, can be accessed at www.pnfp.com.
* This ranking is not based in anyway on an individual's abilities in regards to providing investment advice or management. This ranking is not indicative of advisor's future performance, is not an endorsement and may not be representative of individual clients' experience. Raymond James is not affiliated with FORTUNE.
About Raymond James Financial Services, Inc.
Raymond James Financial Services, Inc., is a financial services firm supporting more than 7,500 independent financial advisors nationwide. Since 1974, Raymond James Financial Services, Inc., member FINRA/SIPC, has provided a wide range of investment and wealth planning related services through its affiliate, Raymond James & Associates, Inc., member New York Stock Exchange/SIPC. Both broker/dealers are wholly owned subsidiaries of Raymond James Financial, Inc. (NYSE-RJF), a leading diversified financial services company with approximately 8,700 financial advisors in 3,000 locations throughout the United States, Canada and overseas. Total client assets are approximately $1.26 trillion.
About the Financial Institutions Division of RJFS
The Financial Institutions Division was established by Raymond James in 1987 to provide banks and credit unions with an alternative to traditional third-party investment providers. Raymond James provides full-service securities brokerage and advisory services to financial institutions seeking to compete with the largest banks and securities firms in the country. In addition to a full complement of investment products and services, Raymond James has the ability to deliver investment banking, public finance, research, self-clearing capabilities and wealth management services to both individuals and institutions.
Securities offered through Raymond James Financial Services, Inc., member FINRA/SIPC. Investment products are not deposits, not FDIC insured, not insured by any government agency, not bank guaranteed, subject to risk and may lose value. Investment advisory services offered through Raymond James Financial Services Advisors, Inc. Pinnacle Financial Partners, Pinnacle Asset Management and Pinnacle Bank are not registered broker/dealers and are independent of Raymond James Financial Services. Located at 150 3rd Avenue South, Nashville, TN, 37201, (615) 690-1417.