Research Shows Our Service is Distinctive, Leads to Client Loyalty and Long-term Shareholder Returns
By Terry Turner, president and CEO of Pinnacle Financial Partners
March 25, 2019
What makes a bank distinctive?
Better yet, what makes a bank distinctive in the eyes of clients?
The question sounds subjective and like a great platform for self-promotion. So let's take an objective view of it.
The researchers at Greenwich Associates might know distinctive service better than anyone else. They are, after all, world leaders in market research for financial services. Every year, they publish extensive reports on banks that serve small business and middle market clients based on surveys of those clients.
They use the data gleaned from these surveys to find the small handful of banks worldwide that have a truly distinctive brand in the eyes of both clients and non-clients, and to find the small handful of banks worldwide that offer measurably distinctive service.
For 2018, just around 20 banks out of more than 600 in the research universe were found to have a measurably distinctive brand. Pinnacle was one and earned four Greenwich Best Brand Awards.
And just a few dozen banks out of more than 600 in the research universe were found to offer measurably distinctive service. Pinnacle was one and earned 21 Greenwich Excellence Awards.
But what good is that? Does it add a penny to our quarterly earnings to have another award in our trophy case?
No, of course not. But what it indicates to us is that the Pinnacle model works and serves the critical elements most indicative of client loyalty and advocacy.
And that's worth a lot more than a penny or two in the results of a single quarter. That's worth a fortune over the long-term as clients are added more rapidly and lost less frequently.
Let's take a look at what we learned from Greenwich Associates research in 2018.
-------------------------------
Clients are loyal to Pinnacle because they trust us and like working with our people.
Let's hone in on a few categories from our home market of Nashville, which is our gold standard model for how all our markets operate:
Overall Satisfaction – 98% Excellent or Above Average
Overall Satisfaction with Branch Service – 100% Excellent or Above Average
Overall Satisfaction with Relationship Manager – 97% Excellent
Bank You Can Trust – 97%
So why does that really matter?  Let's find out by pairing it with more research, this time from the Carnegie Institute and their 2018 trust survey.
That report shows the importance of individual relationships on customer behavior. They found that, in the "Era of the Consumer," you earn trust by being customer-focused, competent and prioritizing what's right over making the sale. And that trust turns into loyalty, which "results in lower acquisition costs and increased revenues … maximizing the lifetime value of each customer."
But it's the numbers that show the full impact of trust and satisfaction on the bottom line:
81% would be "somewhat" or "very likely" to buy again in the future from a company represented by a salesperson they trust.
71% say they would rather buy from a salesperson they completely trust than one who gave them a lower price.
Only 17% of customers would still be very likely to consider buying from competing companies for the same product if they completely trusted their salesperson.
So what does the Greenwich Associates research say about our relationship managers?
In Nashville, they lead the market in every category, including overall satisfaction, responsiveness and providing advice to help businesses grow.
That's the reason why we place such a premium on the hiring model of successful, experienced bankers with at least 10 years of experience. From Carnegie once again:
"As critical as trust and relationships are, sales organizations cannot teach them directly. Rather, these concepts are an outcome of each salesperson having the right individual attributes, skills, and behaviors in place. Companies that focus on developing these assets within their sales force will be more successful in today's hyper-competitive, customer-driven marketplace."
We know that the level of service our people deliver, as proven by Greenwich Associates, breeds loyalty and complete, long-term relationships that can dramatically improve the firm's overall performance.
Loyal clients turn into advocates and are more likely to pay a premium for services.
"[A] customer's propensity to do further business with a supplier, their likelihood of recommending it to others, and the probability that they would pay a premium for the firm's products were shown to be positively influenced by their relationship with the salesperson … Loyal customers share positive experiences with others, exhibit higher intent to repurchase and increased share of wallet."
That, also from the Carnegie report, shows the other outcomes of trust and satisfaction: your clients are willing to pay more for better service and often serve as your most effective form of advertising. 77 percent of survey respondents said that if they trust their salesperson, they are "somewhat" or "very likely" to refer their family or friends.
Our relationship managers and front-line associates are a large part of the reason why our clients are more likely to become our advocates than at almost any other bank. Greenwich Associates data from Nashville say they are accomplishing that goal:
Likely to Recommend - 93%
Net Promoter, meaning they actively promote our firm to others - 93%
As we've said from the beginning, our people are the reason for our success. And it's why we put so much of our focus on attracting them, retaining them and giving them the runway to do what's right for their clients.
The Pinnacle model travels well.
We've thrown a lot of numbers out there, and all of them so far from Nashville. That's largely because it's tough to give a full picture of what they look like across the footprint because the Greenwich research doesn't include Pinnacle in a number of the newer markets we serve. We simply don't have a large enough presence – yet – to be included.
But what do those numbers look like when we open it up a bit and include all our Tennessee markets?
Overall Satisfaction – 97.75% Excellent or Above Average
Overall Satisfaction with Branch Service – 95.25% Excellent or Above Average
Overall Satisfaction with Relationship Manager – 90.25% Excellent
Bank You Can Trust – 90%
Likely to Recommend – 86.75%
Net Promoter – 86.75%
When you add North Carolina to those averages, the numbers still don't change a great deal.
Overall Satisfaction – 95.4% Excellent or Above Average
Overall Satisfaction with Branch Service – 93.6% Excellent or Above Average
Overall Satisfaction with Relationship Manager – 89.6% Excellent
Bank You Can Trust – 88.6%
Likely to Recommend – 82.2%
Net Promoter – 79.8%
Yes, there is still room to grow in many of our markets, but they also have leading or near-leading scores in many categories just 18 months after merger close (at the time the surveys were conducted), which tells us a few things:
We are in the right markets, populated by people who are ready for and want our level of banking service.
We have chosen the right acquisition partners who were already focused on and set up to deliver exceptional service.
Pinnacle's cultural integration has been successful in orienting people toward a model of support for distinct service and effective advice above all else.
Opportunities abound to take additional market share.
Perhaps the most telling graphs in the entire Greenwich Associates report plot two different data points against each other: Overall Satisfaction and Market Penetration. In market after market, throughout our footprint, we see Pinnacle on one end of the Satisfaction plot and our largest, most well-known competitors at the other. More often than not, those large national and regional competitors have double-digit market share – sometimes north of 20 percent – and Overall Satisfaction hovering around just 50 or 60 percent – representing great vulnerability at the banks with the largest number of clients.
Take a look at just a few examples: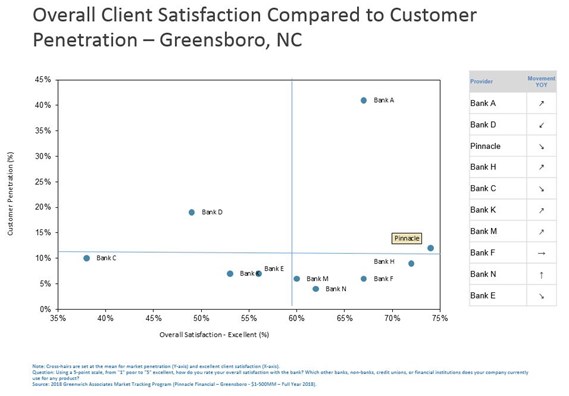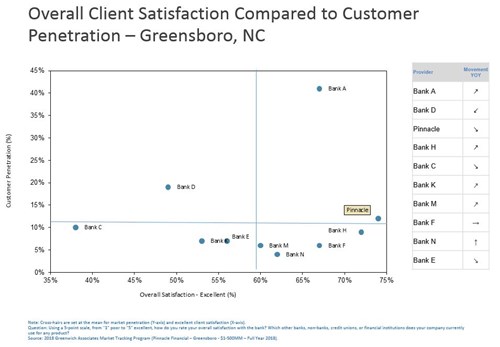 Once again, this tells us that we are in the right markets for our style of banking because there is a significant amount of market share dominated by much larger banks that just aren't giving their clients what they need.
Furthermore, it also tells us that we can go toe-to-toe with the big regional and national franchises because they are not set up to compete with a bank like ours that actually focuses on service and is designed from the foundations to deliver it.
And the Carnegie trust survey offers further proof. In it, 40 percent of respondents said the "sometimes" had great relationships with their salespeople and 35 percent said they rarely or never did. If that bears out in our individual markets – that 75 percent of people are unsatisfied or only marginally satisfied with their relationship managers – then we stand to gain a lot of ground with our superior front-line associates and systematic attention to service. That's great news, right?
-------------------------------
As we laid out in our annual report for 2018, no other bank can do what Pinnacle does so well because every system and process and policy we have is engineered to serve a higher purpose: the idea that people matter. We designed our firm that way because it's the right thing to do and it delivers outsized performance.
One need only look at our track record to see this play out. Our internal and external client surveys show high levels of satisfaction wherever we operate. Our growth has been rapid, consistent and built upon solid foundations. And ours has been one of the highest performing bank stocks since we founded Pinnacle in 2000.
The conclusions drawn by Greenwich Associates are useful signposts in our journey for continuous improvement and ammunition in our battle against the impersonal and bureaucratic service that plagues big banking.
It's hard to imagine a better opportunity: Our proven track record for a differentiated level of service in large, high growth markets with highly vulnerable competitors, particularly those with the largest market shares.