Apple Pay
Your Pinnacle MasterCard is Now Apple Pay Ready.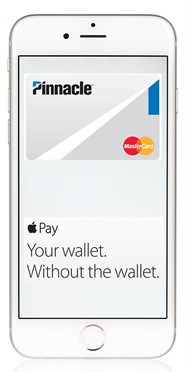 Experience all the benefits of your Pinnacle debit and credit MasterCard using Apple Pay. It's an easy, secure and private way to pay for purchases at participating retail locations using your iPhone 6 and/or Apple Watch.
Just complete two simple steps to get started:
Step 1  Store your card in Passbook
Open the Passbook app and click on the plus sign located in the upper right hand corner of the screen. Capture a photo of your Pinnacle card or enter the information manually.
Step 2  Card Verification
The card verification process should take just a few seconds. Additional verification may be required via phone. 
Apple Pay is available to all consumer and credit account holders. Paying at the checkout just got even easier with Pinnacle and ApplePay. 
Click here to read the Pinnacle press release, or go here to learn more about Apple Pay.

Apple, the Apple logo, iPhone and Passbook are trademarks of Apple Inc., registered in the U.S. and other countries. Apple Pay, Touch ID and Apple Watch are trademarks of Apple Inc.