Pinnacle Financial Partners is One of America's Best Places to Work
February 14, 2019
Pinnacle Financial Partners is one of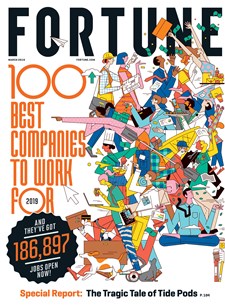 the top places to work in the United States, according to the latest list of the 100 Best Companies to Work For® from FORTUNE magazine and Great Place to Work. The firm ranked 27 on the list, joining companies like Hilton, Salesforce and Cisco as one of the nation's best, most engaging workplaces.
"There's a reason why we focus so much on being one of the nation's best places to work," said Terry Turner, Pinnacle's president and CEO. "We built our company to battle the bureaucratic and impersonal service that has infected banking. That goes for the client experience as well as the associate. Everyone deserves a great place to work and a great place to do business. We can provide both at the same time because when people love what they do, they'll give clients a premier experience." 
The FORTUNE list is one of the country's most prestigious workplace award programs, and Pinnacle has earned a spot in each of the three years it has been eligible. Last year the firm also won awards for being a best workplace for women, millennials and parents. Pinnacle also ranked No. 3 on the list of Best Places to Work in Financial Services and Insurance.
Pinnacle's people-focused approach to banking and management has also earned recognition from leadership consultant Marcel Schwantes of Inc. Magazine and is the focus of a storytelling series the firm launched last month.
"The very best bankers in the Southeast want to work at Pinnacle, and that's because we staked our fortunes on making our culture and associate experience the very best," Turner said. "It's the right thing to do and it attracts and retains top talent. This is not just an initiative or program for us. It's baked into our foundation, the basis of our business model. When we built Pinnacle, we looked compassionately at our associates and asked, 'What would I want from my job? What would make me excited to come to work?' And we went from there." 
Great Place to Work is a global research and consulting firm that collects survey feedback from more than 4.3 million employees nationwide. They ask respondents to rate their workplace culture on more than 60 separate elements like trust in managers, compensation, fairness, camaraderie, traits linked to innovation and more. The ranking accounts for the experiences of all employees regardless of gender, age, background and other demographic criteria.
"The 2019 100 Best are the leaders in creating the most innovative workplaces built on trust," said Michael C. Bush, CEO of Great Place to Work. "Employees at these organizations feel valued, respected and heard and are inspired to be their best selves. That's because of the commitment these winning companies have made to creating a great workplace for all employees, no matter who they are or what they do for the company."
The 100 Best Companies is one of a series of rankings by Great Place to Work and FORTUNE based on employee feedback from Great Place to Work-Certified™ organizations. To see the full list of the 2019 FORTUNE 100 Best Companies to Work For, click here.
Pinnacle Financial Partners provides a full range of banking, investment, trust, mortgage and insurance products and services designed for businesses and their owners and individuals interested in a comprehensive relationship with their financial institution. The firm is the No. 1 bank in the Nashville-Murfreesboro-Franklin MSA, according to 2018 deposit data from the FDIC. Pinnacle earned a spot on FORTUNE's 2019 list of the 100 Best Companies to Work For® in the U.S., its third consecutive appearance. American Banker recognized Pinnacle as one of America's Best Banks to Work For six years in a row.
The firm began operations in a single location in downtown Nashville, TN in October 2000 and has since grown to approximately $25.0 billion in assets as of Dec. 31, 2018. As the second-largest bank holding company headquartered in Tennessee, Pinnacle operates in 11 primarily urban markets in Tennessee, the Carolinas and Virginia.
Additional information concerning Pinnacle, which is included in the NASDAQ Financial-100 Index, can be accessed at www.pnfp.com.
About The FORTUNE 100 Best Companies To Work For®
Great Place to Work based its ranking on a data-driven methodology applied to anonymous Trust Index™ survey responses representing the view of more than 4.3 million employees at Great Place to Work-Certified organizations with more than 1,000 employees. To learn more about Great Place to Work Certification and recognition on Best Workplaces lists published with FORTUNE, visit Greatplacetowork.com.
About Great Place to Work®
Great Place to Work® is a global people analytics and consulting firm that helps companies produce better business results by focusing on workplace culture. Powered by more than 30 years of research, Emprising®, its SaaS-enabled survey and analytics platform, gives companies access to the assessments, data, and reporting needed to build a high-trust, high-performance culture. 
Read our new book: "A Great Place to Work for All: Better for Business, Better for People, Better for the World." Learn more at Greatplacetowork.com and on LinkedIn, Twitter, Facebook and Instagram.