Fortune Magazine Names Pinnacle One of the Nation's Best Places to Work
March 09, 2017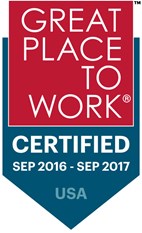 Pinnacle Financial Partners has reached a new milestone in its mission to be the best place to work in the Southeast. For the first time, Pinnacle earned a place on Fortune Magazine's list of the 100 Best Companies to Work For. This marks the eighth national workplace award in the firm's history.
Pinnacle landed at No. 34 on the 2017 list of Fortune's 100 Best Companies to Work For, which is developed according to global research by consulting firm Great Place to Work and Fortune. The ranking is based on employee ratings of workplace culture, including the level of trust they feel toward leaders, the pride they take in their jobs and the camaraderie they experience with co-workers.
"It's always an honor to hear our associates say they love working here, and even more so to see it backed up by independent research," said Terry Turner, Pinnacle's president and CEO. "As we've grown from a staff of 34 in a single office in Nashville to 1,200 associates statewide, internal culture has been a constant. In fact, being the best place to work was in our company's vision statement since the beginning. We couldn't fulfill that goal without our entire team's full commitment to creating an engaging workplace."
Read about Pinnacle's ranking on Fortune's website.
Pinnacle has previously won national workplace honors from Fortune on the Best Medium-sized Workplaces list (three times), as well as from American Banker (four times). The firm has also won more than a dozen local workplace awards, including 10 from the Nashville Business Journal before retiring from the program in 2014. This is the first year the firm has been eligible for Fortune's 100 Best companies to work for list, which evaluates firms with at least 1,000 employees.
This year marks the 20th anniversary of the list. Research from Great Place to Work shows that list winners outperform the stock market and beat industry rivals when it comes to talent retention and demonstrating higher levels of productivity than peers.
The full list of the 2017 Fortune 100 Best Companies to Work For is also available on that website. To see the schedule for all Great Place to Work Best Workplace lists and more information on how to apply, visit the Great Place to Work website.
Pinnacle Financial Partners provides a full range of banking, investment, trust, mortgage and insurance products and services designed for businesses and their owners and individuals interested in a comprehensive relationship with their financial institution. The American Banker recognized Pinnacle as the sixth best bank to work for in the country in 2016.
The firm began operations in a single downtown Nashville location in October 2000 and has since grown to approximately $11.2 billion in assets as of Dec. 31, 2016. As the second-largest bank holding company headquartered in Tennessee, Pinnacle operates in the state's four largest markets, Nashville, Memphis, Knoxville and Chattanooga, as well as several surrounding counties.
Additional information concerning Pinnacle, which is included in the NASDAQ Financial-100 Index, can be accessed at www.pnfp.com.