Pinnacle's New Mobile App: How to Get Ready and How to Log In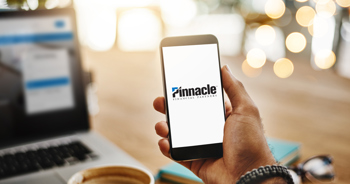 Pinnacle's new mobile app is here. Many iPhone users got an automatic update and can see the new app right now. All others will have to take action to get it, like deleting the old app and visiting the App Store or Google Play to download the new one.
Instructions for who does what and how to get the new app are available at PNFP.com/Mobile.
Once you have it, what then? What's different? How can you prepare?
What should I do before I use the new app for the first time?
Make sure you know your Access ID and passcode before you try to log in. You will need to log in with that information the first time you use the new app.
Go ahead and get them ready now by using the current Pinnacle app or Online Banking.
If you don't remember your Access ID (it's the same one you use for Online Banking), you can call us at 800.264.3613. Please go ahead and do this before you upgrade so you're ready to log in when you have the new app. Remember that your Access ID is case sensitive.
If you know your Access ID but not your passcode, you can use the "forgot passcode" link in the app or in the Online Banking box on PNFP.com to create a new one. You will need to have your Access ID, email address, account number and security questions and answers handy.
What happens when I first log in?
If you have your Access ID and your passcode ready, you should be able to log in right away and explore the new app without any problems. You can also set up face ID and/or fingerprint login if your device supports it. Before you do that, though, keep reading.
Can I use one login for both my personal and business banking?
Not unless you set them up to work that way. You have the option to add personal accounts to your business login and/or vice versa (more on that later), but if you use a personal Access ID and business Access ID today, you will need to log into them each separately.
This part is important: The app will give the option to use "biometric" logins, which means face ID or fingerprint, as well as a "Remember Access ID" option. You can only do this for either your personal or your business accounts. You cannot save the Access ID or use biometrics for both.
So before you tell the app to use face ID or your fingerprint, make sure you choose the one you use most often. The other will require you to enter your Access ID and passcode each time you log in.
If I have two Access IDs, will the app remember both? 
No. Biometrics and the "Remember Access ID" feature will only work for one Access ID. We encourage you to establish biometrics or "Remember Access ID" on the one you use most often.
Can I have my personal account added to my business login?
Yes, but you need to know that any Online Banking administrators of the business will then be able to see the connected personal accounts.
Can I have my business account added to my personal login?
Yes, but wire or ACH functionality will not be available under the personal login. 
These and many more FAQs on the new Pinnacle app are available at PNFP.com/Mobile.
---