New Look Coming for Online Banking
If you use Pinnacle's Online Banking, you'll notice a cleaner look after Dec. 4. Much of the functionality won't change, but don't be surprised if a few things have moved. The first difference to note is that instead of hovering over a tab to make the menu appear, you will click on the tab.
It might take a little time to get used to, but the new design includes several added benefits.
You'll be able to see the important account information you need all on one screen. The new "Home" page combines the information that is currently on the "Snapshot" tab and "Account Summary" page.
A "Spendable Balance" area helps you calculate what you can safely spend. For example, you may want to set aside $20,000 for a new car and want to be sure you don't touch that money. The Available Balance in your primary checking account, subtracted by the amount you wish to set aside, equals your Spendable Balance.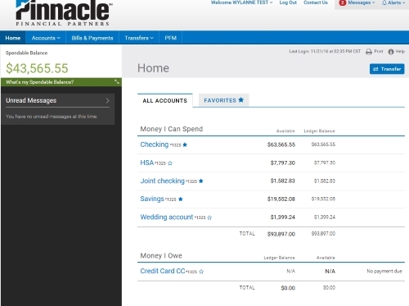 You can check out screenshots and get more details about of the new design here. This reference guide will help you become familiar with the look of the site before it launches on Dec. 4. For example:
See where to check messages and alerts (page 1)
Learn more about how to use your "Spendable Balance" to set aside money that you want to avoid spending (page 3)
Get step-by-step instructions for viewing your statements and history (pages 5-7)
Other Important Info
If you use Internet Explorer 10 to visit Online Banking, we recommend that you upgrade your browser before Dec. 4. Microsoft has stopped releasing general security updates for IE 10 and encourages users to upgrade to the latest browser for a faster, more secure experience.
Downtime Notice: Pinnacle's Online Banking will undergo maintenance from 11 p.m. CT Saturday, Dec. 3 to 4 a.m. CT Sunday, Dec. 4 as we implement the new design. Online Banking will be unavailable during this timeframe, so please plan ahead.
If you have any questions about the upcoming redesign, please contact our Client Service Center at 1.800.264.3613.
Back to Learning Center