20th Season Bobblehead Promotion
Sign up for Grizzlies Banking. 
As the official bank of the Grizzlies, Pinnacle is proud to offer accounts created with fans in mind with a free Grizzlies debit card and mobile banking. Not only do we make banking easy, but we also offer benefits that you can only get through Grizzlies Banking.
Here's how you can qualify.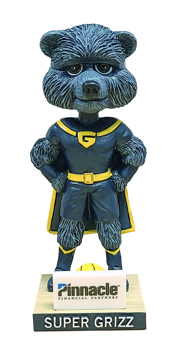 1. Open an account online or visit one of our locations.**
2. Make a minimum deposit of $100.
3. Set up a recurring direct deposit of your full payroll (or gov't benefits) to your new account. One recurring direct deposit must post and clear your account by July 31, 2021.
Within 2-4 weeks of meeting these requirements, we will mail you the 20 Grizzlies greats included in the 20th Season Bobblehead Collection.
20th Season Bobblehead Collection features: 
Brevin Knight ('01-'03), Jason Williams ('01-'05), Lorenzen Wright ('01-'06), Shane Battier ('01-'06, '11), Pau Gasol ('01-'08), Elliot Perry ('02, '06-present), Hubie Brown ('02-'04), Mike Miller ('02-'08, '13-'14), Rudy Gay ('06-'13), Mike Conley ('07-'19), OJ Mayo ('08-'12), Marc Gasol ('08-'19), Lionel Hollins ('09-'13), Zach Randolph ('09-'17), Tony Allen ('10-'17), Tayshaun Prince ('13-'15, '17-present), Jaren Jackson Jr. ('18-present) Ja Morant ('19-present), and we can't forget Original Grizz ('01-'04) and Super Grizz ('10-present). 
Plus, as a Grizzlies Banking client with Pinnacle, you will also receive:
Free online and mobile banking (with iPhone and Android apps)
Free Grizzlies debit card with no usage fees
All consumer debit cards are available on Apple Pay and Samsung Pay
As a reminder, you are responsible for claiming the bonus as interest income on your 2021 taxes.
Nobody gets you closer to the Memphis Grizzlies than Pinnacle.
---
Promotion Details
*Offer expires July 31, 2021. This offer is for new Pinnacle checking households, or for households that have not had an open Pinnacle consumer checking account for at least 24 months. Limit one bonus per household. Cannot be combined with other offers. Must be 18 or older at time of account opening. Offer is non-transferable. Account is subject to approval.
To receive the commemorative Memphis Grizzlies 20-Year Bobblehead Pack featuring 20 Memphis Grizzlies legends both on and off the court, you must (1) open a Grizzlies checking account with an opening deposit of at least $100 by July 31, 2021, and (2) have at least one recurring direct deposit post and clear your account before August 15, 2021. Direct deposit is a recurring electronic deposit and must be full payroll or government benefits. Within 2-4 weeks of meeting all requirements you will receive a mailed letter with the commerative 20-year bobblehead promotion pack. The "bonus" will be reported as income on IRS Form 1099-INT and is valued at $200 total.
**Grizzlies Banking provides a suite of three checking account options. The interest bearing account option, Grizzlies Premium Checking, earns an Annual Percentage Yield (APY) of 0.03% on all balances. The APY is variable and subject to change after the account is opened. APY is accurate as of June 15, 2021.  Fees could reduce earnings. See grizzliesbanking.com website for additional account options.