Keys to a Great Workplace
We created an award-winning culture, and you can, too.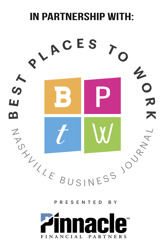 With 10 national awards and more than 20 local and regional honors, Pinnacle is known as a great place to work. For us, having the best workplace is about more than winning trophies. It's the very basis of our business model.
It's simple: 

If you run your business with a focus on how you treat your employees, client service will take care of itself.
We're sharing our keys to creating a great workplace. Each is written by one of Pinnacle's experts in the field. They are financial advisors with more than 140 years of combined experience who largely focus on helping small businesses grow.
As an added bonus, our President and CEO Terry Turner has penned a piece about how to maintain that special small business feel even as your company grows.
Please make plans to join the authors of these articles and other local business owners at our free Keys to a Great Workplace Summit on June 16, 2017.
Register for the Keys to a Great Workplace Summit