Cheers to 20 Years
In early 2000, a small group of Nashville business leaders united with a common vision. They believed in an idea for a better way to do business that put people first. They wanted to build a financial services firm where people loved coming to work and passed that love along to their clients.
Then, on Oct. 27, 2000, they opened the doors of the first Pinnacle office at 211 Commerce Street in downtown Nashville. The 38 original associates welcomed their first client, Don Kennedy Roofing, and started a journey to make their shared vision a reality.
The following 20 years brought success and adversity. They brought internal growth and changes to the economic landscape. Through it all, the common vision has persisted.
To be the best place to work and the best place to do business in the Southeast.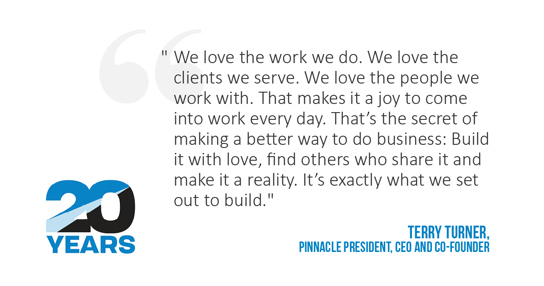 Read more from Terry on our history, vision and passion.
We are grateful to our clients, our associates, our partners, our communities and everyone who has played a part in the Pinnacle story for 20 years. We knew we had something special, but we never imagined just how far it would take us. And we couldn't have done it with you.
Thank you. Let's join in fellowship to celebrate all we have accomplished together. "Cheers to 20 years!"
Take a Journey Through Pinnacle History