Winslett and McCalley Join Pinnacle's Birmingham Team
February 13, 2023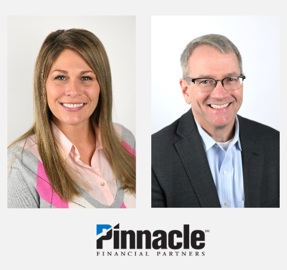 Financial professionals Amber Winslett and Charles McCalley have joined Pinnacle's Birmingham Brookwood office.
"One of Pinnacle's promises to clients is that they will be served by experienced professionals with the wisdom of many years in the industry," said Mark Imig Pinnacle's regional president in Birmingham. "Amber's successful retail banking and wealth partner experience along with her proven leadership capabilities make her the perfect fit to build Pinnacle's mortgage team in Birmingham, and Charles' reputation as an accomplished banker and trusted advisor and his approach to relationship development and client service also fits in perfectly with our culture at Pinnacle."
Winslett brings 17 years of mortgage industry experience to her role of mortgage manager. She most recently comes from Supreme Lending, where she established a new branch office in Birmingham and served as a producing mortgage manager. Previously Winslett was with BBVA, USA, where roles included serving as a mortgage area sales manager, mortgage banking officer and a senior financial sales advisor. She began her career at Servus Lending, LLC, where she was a sales manager and mortgage lending officer.
McCalley joins the firm as a treasury management analyst. He brings a 15-year career in financial services from Regions Bank, where he most recently served as a treasury management analyst responsible for implementing new products and services for the bank's commercial clients across Birmingham.
Pinnacle Financial Partners provides a full range of banking, investment, trust, mortgage and insurance products and services designed for businesses and their owners and individuals interested in a comprehensive relationship with their financial institution. The firm is the No. 1 bank in the Nashville-Murfreesboro-Franklin MSA, according to 2022 deposit data from the FDIC, is listed by Forbes among the top 25 banks in the nation and earned a spot on the 2022 list of 100 Best Companies to Work For® in the U.S., its sixth consecutive appearance. American Banker recognized Pinnacle as one of America's Best Banks to Work For 10 years in a row and No. 1 among banks with more than $11 billion in assets in 2022.
Pinnacle entered Alabama in the summer of 2021 by hiring a team of local financial services professionals to open offices in Huntsville and Birmingham.
The firm began operations in a single location in downtown Nashville, TN, in October 2000 and has since grown to approximately $42.0 billion in assets as of December 31, 2022. As the second-largest bank holding company headquartered in Tennessee, Pinnacle operates in 15 primarily urban markets across the Southeast.
Additional information concerning Pinnacle, which is included in the Nasdaq Financial-100 Index, can be accessed at www.pnfp.com.