Pinnacle's Justin Willis Named Top Black Industry Leader by Wealth Solutions Report
March 02, 2023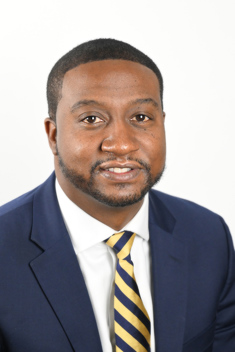 Pinnacle Financial Partners trust portfolio manager and private wealth advisor Justin Willis was named Black Portfolio Manager of the Year by Wealth Solutions Report for their Pathfinder Awards.
"I'm honored that my work in wealth management over the past decade has made an impact and grateful for the relationships I've formed," said Willis. "As we strive to cultivate more diverse representation in the financial services field, I'm thankful for the support of my Pinnacle team and clients who continue to make this work rewarding."
Willis came to Pinnacle in 2022 with more than 10 years of industry knowledge and experience.
Prior to Pinnacle he was a private client advisor at JP Morgan Wealth Management. He also served as portfolio manager at Bank of America Private Bank, and US Trust and financial advisor/financial planner at Principal Financial Group. Justin holds CFP®, CIMA®, and CPWA® designations.
"We're fortunate to have Justin and his significant expertise on our team," said Carolyne Pelton, regional president for the National Capital Region at Pinnacle. "The Wealth Solutions Report Pathfinder award is well deserved and recognizes his excellence and achievement in the wealth management industry. Justin is an expert advisor, and we're proud that he puts his passion to work for our clients."
The WSR editorial team selects individual winners from underrepresented communities who have a strong industry reputation, demonstrate excellence and commitment to the industry, command wide influence across wealth management and can serve as role models for others in the industry or aspiring to enter it. 
Pinnacle Financial Partners provides a full range of banking, investment, trust, mortgage and insurance products and services designed for businesses and their owners and individuals interested in a comprehensive relationship with their financial institution. The firm is the No. 1 bank in the Nashville-Murfreesboro-Franklin MSA, according to 2022 deposit data from the FDIC, is listed by Forbes among the top 25 banks in the nation and earned a spot on the 2022 list of 100 Best Companies to Work For® in the U.S., its sixth consecutive appearance. American Banker recognized Pinnacle as one of America's Best Banks to Work For 10 years in a row and No. 1 among banks with more than $11 billion in assets in 2022.
Pinnacle entered the National Capital Region in November 2021 by recruiting six local financial services professionals to open an office in Northern Virginia. The firm was recognized as the No. 6 Best Place to Work in Virginia by Virginia Business magazine in 2020.
Pinnacle began operations in a single location in downtown Nashville, TN, in October 2000 and has since grown to approximately $42.0 billion in assets as of December 31, 2022. As the second-largest bank holding company headquartered in Tennessee, the firm operates in 17 primarily urban markets across the Southeast.
Additional information concerning Pinnacle, which is included in the Nasdaq Financial-100 Index, can be accessed at www.pnfp.com.