Pinnacle is the Triad's No. 1 Best Place To Work for Fifth Consecutive Year
May 19, 2023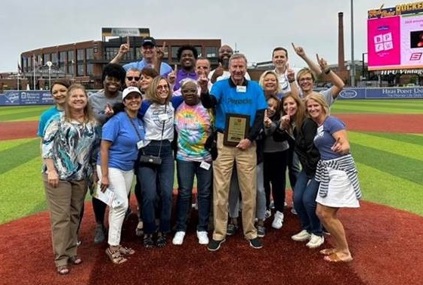 Pinnacle Financial Partners has again been named the No. 1 Best Place to Work in the Piedmont Triad region of North Carolina in the extra-large company category (greater than 300 associates). The Triad Business Journal announced the rankings today in the culmination of its annual competition to find the region's top workplaces. This is the fifth year in a row Pinnacle has earned the top spot on the list, and one of many local workplace awards the firm has won in North Carolina, including two consecutive No. 1 rankings in both the Triangle region and Charlotte. 
"Pinnacle is built on a philosophy of treating people well, and that starts with our associates who have contributed to the culture that earned this recognition," said Reid Marks, Pinnacle's regional president for Central North Carolina. "We hire the best, give them the freedom to do their jobs, give them ownership of the company and their work, and give them shared goals with shared rewards. We put associates first because we know that when they're happy, they'll make our clients even happier."
Associates in the Triad share their experiences within the company culture on Pinnacle's annual anonymous work environment survey. Comments from the 2022 survey included:
"Pinnacle offers me a great work/family life balance. Not only do I believe Pinnacle cares about me, but they really care about our clients."
"Pinnacle is an organization that truly cares for their employees. They take the time to learn about who works for them and help them grow and develop to be successful."
"This company has a unique and special culture that allows us to stand out from our peers. Most new employees continue to say 'I can't believe this is actually real.' Overall, Pinnacle is a great bank and great place to work."
The Best Places to Work competition is based on third-party research from Quantum Workplace, a leading employee engagement firm. They send anonymous surveys to employees with closed and open-ended questions on culture, camaraderie and other criteria. Average scores from these surveys determine the final rankings and awards. Dozens of companies are eligible, and only a handful are chosen as finalists. 
Pinnacle was listed No. 24 on the most recent 100 Best Companies to Work For in the United States. Last year, the firm landed at No. 9 on the list of the top financial services firms to work for, No. 7 on the list of Best Workplaces for Millennials and No. 2 on the list of Best Workplaces for Women, all from FORTUNE magazine and Great Place to Work.® 
Pinnacle Financial Partners provides a full range of banking, investment, trust, mortgage and insurance products and services designed for businesses and their owners and individuals interested in a comprehensive relationship with their financial institution. The firm is the No. 1 bank in the Nashville-Murfreesboro-Franklin MSA, according to 2022 deposit data from the FDIC, is listed by Forbes as No. 27 among America's Best Banks, higher than any other bank headquartered in Tennessee, North Carolina, South Carolina or Georgia. Pinnacle also earned a spot on the 2023 list of 100 Best Companies to Work For® in the U.S., its seventh consecutive appearance and was recognized by American Banker as one of America's Best Banks to Work For 10 years in a row and No. 1 among banks with more than $11 billion in assets in 2022.
Pinnacle entered the North Carolina market in 2017 when it acquired BNC Bancorp, offering community bank service with the resources and sophistication of a larger firm. Pinnacle is ranked as the No. 1 workplace in the Triad, Triangle and Charlotte markets, as listed by the Triad Business Journal, Triangle Business Journal and Charlotte Observer.
The firm began operations in a single location in downtown Nashville, TN, in October 2000 and has since grown to approximately $45.1 billion in assets as of March 31, 2023. As the second-largest bank holding company headquartered in Tennessee, Pinnacle operates in 17 primarily urban markets across the Southeast.
Additional information concerning Pinnacle, which is included in the Nasdaq Financial-100 Index, can be accessed at www.pnfp.com.