Pinnacle Builds a Team in Louisville with Addition of Five
January 26, 2023
Pinnacle Financial Partners continues to build its Louisville team with the addition of experienced financial advisors John Shasky and Rhodes Bratcher, credit advisor Eric Whitfield, treasury management advisor Doreen Langley and health and benefits advisor Heather Harte. These additions will help Pinnacle serve commercial and small business clients in Louisville and the surrounding areas by building local capacity to deliver the finance and cash management solutions they need.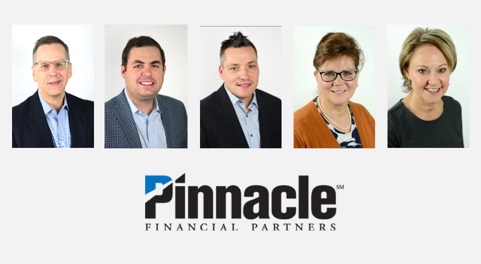 "We're building an incredible team of financial professionals in Louisville," said Tom Crockett, regional president of Pinnacle in Louisville. "These five are among the most talented, experienced bankers in the region, and they give us an important leg up in delivering distinctive service to our clients in Kentucky. We're moving full steam ahead to build a bank that we feel strongly this community will embrace."
"Heather brings decades of healthcare industry experience to our growing team, " said Adam Hewitt, health and benefits program manager. "Bringing her on board represents the latest in a series of significant long-term investments in the specialized healthcare related services we can provide to clients."
Shasky brings 23 years of financial services experience to Pinnacle. Prior to joining the firm, he served as a commercial relationship manager at Fifth Third Bank. He also served as a financial consultant at Wells Fargo PCS and investment executive at U.S. Bancorp Piper Jaffray. Before entering the world of finance, Shasky spent 10 years as a professional basketball player both in the NBA and internationally. Shasky earned his bachelor's in business from the University of Minnesota.
Bratcher brings 11 years of financial services experience to Pinnacle. Before joining the firm, he served as commercial banking relationship manager at PNC Bank and has also held positions with Untitled Firm and Crowe Horwath LLP. Bratcher earned his bachelor's and master's degrees from the University of Kentucky.
Langley brings 25 years of financial services experience to Pinnacle. Prior to joining the firm, she served as treasury advisor at KeyBank Corporation. She also served as a treasury management officer at PNC Bank and held positions at Jefferson National Insurance and Aegon Financial Partners, Inc. Langley earned her bachelor's degree and MBA from Spalding University.
Whitfield has 23 years of financial services experience. He joins Pinnacle from Wells Fargo where he served as senior commercial portfolio manager. Prior roles include relationship manager at CoBank, relationship manager and senior collateral manager at Wells Fargo, and roles with National City Bank. Whitfield also earned his bachelor's degree from the University of Kentucky.
Harte has 25 years of healthcare industry experience. She joins Pinnacle from Ascensus Health and Benefits where she served as the regional vice president for sales. She also held positions with HSA Bank, UMB Bank, Aetna Life Insurance Company, Cofinity and Mutual of Omaha Insurance Company. She earned her bachelor's degree from The Ohio State University.
Pinnacle Financial Partners provides a full range of banking, investment, trust, mortgage and insurance products and services designed for businesses and their owners and individuals interested in a comprehensive relationship with their financial institution. The firm is the No. 1 bank in the Nashville-Murfreesboro-Franklin MSA, according to 2022 deposit data from the FDIC, is listed by Forbes among the top 25 banks in the nation and earned a spot on the 2022 list of 100 Best Companies to Work For® in the U.S., its sixth consecutive appearance. American Banker recognized Pinnacle as one of America's Best Banks to Work For 10 years in a row and No. 1 among banks with more than $11 billion in assets in 2022.
Pinnacle began working in Kentucky in 2017, serving clients from Nashville, TN. The firm officially launched its first locally based teams and offices in the state in 2022 by recruiting high-performing teams of bankers to bring Pinnacle into Bowling Green, Louisville and the surrounding areas.
The firm began operations in a single location in downtown Nashville, TN, in October 2000 and has since grown to approximately $42.0 billion in assets as of December 31, 2022. As the second-largest bank holding company headquartered in Tennessee, Pinnacle operates in 15 primarily urban markets across the Southeast.
Additional information concerning Pinnacle, which is included in the Nasdaq Financial-100 Index, can be accessed at www.pnfp.com.